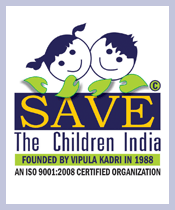 Save The Children India
Sf9, G Block, Next To American School Of Bombay, Behind Citi Bank, Bandra Kurla Complex, Bandra (east), Mumbai, Maharashtra, India, 400098
Email: kashmira.jain@savethechildrenindia.org, ashnaa.keny@savethechildrenindia.org
Website: www.savethechildrenindia.org
Visit on Facebook: savethechildrenindia
Charity Bib Status: Available

About NGO:
Save The Children India was born 25 years ago, with a vision of making India a child-friendly nation, and a mission to nurture, educate and guide the growth of vulnerable children and women, thus enabling them to develop into strong, productive citizens. Through innovative initiatives and an impactful approach, Save The Children India upholds its integrity and strives to provide a platform to those in need.
To that end, Save The Children India is committed to preventing exploitation and all other forms of discrimination, thus empowering each of its beneficiaries to lead a life of dignity, self-respect, and independence, and to help them build and sustain a bright future for themselves, and for the country.
The founder, the late Ms. Vipula Kadri has left behind a legacy which only few can match. The organization has won several prestigious awards for being the 'Best NGO' in India, and has reached out to over 2,00,000 beneficiaries in the realms of health, education, livelihood and women empowerment.Over the years, the Save The Children India has incorporated the core values that the founder inspired them towards, with an inclination towards Impact, Innovation and Integrity.
All the funds raised through the Marathon will go towards providing access to quality education in urban and rural areas, vocational training to young women and adolescent girls, and a holistic education to mentally challenged and hearing impaired children from less privileged backgrounds.
Fund Usage:

Study Centres:
Save The Children India runs over 116 Comprehensive Study Centers across 60 sites in Mumbai for teaching programs, providing an alternate facility for the lesser privileged, and facilitating education of children, who otherwise may have been drop outs.
 
Need
54% of India's children between 6 and 14 years of age cannot read and write or perform basic arithmetic. According to an external assessment report, these children are two to three grades below what they are expected to be achieving at their age. Consequently, many of those who cannot keep up with their studies are at a high risk of dropping out of the regular school system.
Opportunity
An educational program designed to accelerate students' learning and help them achieve their full potential in core subjects.
Our Solution
Teaching Learning Material - a robust remedial program and kit facilitated and implemented in Language and Mathematics through three mediums (Hindi, Marathi, English and Urdu)
Program at a Glance
Additional support and coaching time scheduled before, during or after school hours.
A child monitoring and evaluation system to track the pace and progress of each individual student.
Scaling up to offer services and materials to additional locations, equipped with a team of Master Trainers.
The program ensures:
Students' retention in the schools
Academic progress (expected 2 grades up in a year)
Teachers accountability and commitment
Impact to date
15-20% improvement in students annual academic performance in Language and Mathematics subjects
200,000 direct beneficiaries
Reached out to 100 Municipal  schools in 24 wards
Theory of Change
If children in primary grades are provided with quality and supplementary coaching, they will improve their basic competencies and develop interest to attend the schools regularly.  In doing so, they will develop a stronger desire and passion to continue their education up through secondary schooling so that they can one day be positive contributors to their communities and society as empowered individuals.
Impact:
With every initiative and project undertaken by Save The Children India, the main goal is to create a high impact with a great numerical as well as anecdotal value. Through its initiative and sustenance efforts, it has been a guiding platform for beneficiaries since its inception in 1988. The impact of the organization's work, has led to making a very fruitful difference, benefitting the lives of lakhs of women and children.
The plethora of projects that fall under the Save The Children India umbrella symbolize a bold and sustained effort, on the part of every individual associated with the organization, towards a better world - just as the founder had envisioned.
Save The Children India reached a key milestone on the 1st of July 2010, Government of India adopted the Code of Conduct for Safe and Honourable Tourism developed by Save The Children India in association with the United Nations Office on Drugs and Crime, and the Pacific Asia Travel Association.
Save The Children India continues its efforts toward impact and innovations, in order to be ahead of the curve when it comes to creating a change in the society, and ultimately in the world we live in.
Page Url :
http://www.unitedwaymumbai.org/ngo18_save_the_children.htm
Founded Year:
1988
Cause category: Children