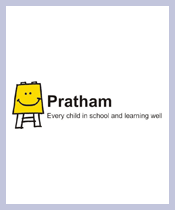 About NGO:
Pratham is the largest education-focused NGO in India. It was started in 1994, in the slums of Mumbai, under the leadership of Dr. Madhav Chavan and Ms. Farida Lambay with the purpose of ensuring that every child is in school and learning well. Over the years, the organization has grown both in scope and geographical coverage with a presence in 20 states in India. Today Pratham has evolved as an innovator on large scale educational delivery at all levels across India. Through programs in Supplemental education in the pre-primary, primary and secondary school levels, as well as vocational skilling for young adults, Pratham now reaches around 3 million children and young adults, annually. Pratham's programs in the sphere of child rights and digital literacy have also escalated in the past couple of years. Pratham firmly believes in creating a societal mission to solve the problem of education with a tripartite partnership between the government, the corporate sector and citizens. To make its programs sustainable and self-propelled in the long run, Pratham works closely with the school systems and communities that are involved in its intervention.
Fund Usage:

The funds collected through this combined effort of the donor, United Way and Pratham will go towards supporting Prathamís programs in the sphere of vocational skilling. Creating sustainable programs to train the youth for employability and entrepreneurship is of paramount importance in India today; and these funds will go a long way in making that possible. Young adults who have dropped out of school or have only completed their formal education up to the grade 8 or 10 face severe challenges. These are usually youth who are eager to learn but are often forced to leave their education midway to cater to family and financial needs. Pratham aims at making education for these individuals as holistic and satisfying as possible. The skills-related training provided to them is outcome-focused and linked to jobs and employability Pratham strives to work along the entire length of the process; from mobilization of the youth, to training and subsequent placement.
Impact:
Ten year old Priyanka studies in Grade 5 in a Government School in Barabanki, Uttar Pradesh. She lives with her parents in Ibrahimabad, a low income neighborhood. Priyanka has one brother and 1 sister. Her father is a farmer by profession while her mother is a housewife. When Pratham conducted a survey in her area a year ago and tested all the children for proficiency in various subjects, the tests revealed that Priyanka could only identify alphabets. This led her father to enroll her in the Pratham Summer Camp which was located in close proximity and was taking place during summer vacations. Over the course of the year, Priyanka has learnt to read and write with the help of Pratham's special teaching techniques, as well as the care and attention of her Pratham-trained teacher. Priyanka loves to attend school and the learning camp. Her teachers say that she is an extremely bright child who is focused and dedicated. Priyanka also loves to play games. In her spare time, she likes to play hockey and kabbadi with her sister. Despite being literate, her father looks into her studies every evening when he comes home from work. When she grows up, Priyanka wants to be a teacher.
Page Url :
http://www.unitedwaymumbai.org/ngo184_pratham.htm
Founded Year:
1994
Cause category: Education
Our Supporters