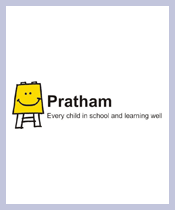 Pratham Education Foundation
Y.b. Chavan Center, 4th Floor, Gen. J. Bhosale Marg. Nariman Point, Mumbai, Maharashtra, India, 400021
Founded Year: 2002
Cause category:
Telephone: 011-26716083
Charity Bib Status:
1 Available
Raised by 0 contributors.

About NGO:
Pratham's main programs are
Read India which is Pratham's flagship program working in urban and rural areas to strengthen basics of literacy and numeracy of children between the age of 3 to 14 through innovative teaching learning techniques.
The Annual Status of Education Report (ASER), a citizen-led assessment of children's basic learning outcomes for children in the age group 5 to 16. This assessment model has been adapted for use in several African countries and in Pakistan.
Pratham Open School of Education (POSE), launched as a pilot program in 2011, focuses on helping youth, especially girls who have dropped out of school to complete their secondary school certification. The program is now increasingly focusing on in-school students to help address challenges in Upper Primary learning through Pratham Supported Schools (PSS) program.
Pratham Institute is the vocational training arm of Pratham and works with rural and semi-urban unemployed and underemployed youth to provide them with access to training to reach employability, certification of skills, and provision of subsequent employment or entrepreneurship opportunities.
Fundraisers supporting this NGO:


Fund Usage:

The funds raised through SCMM 2016 will be directed towards the Pratham Library program. The objective of Pratham's Library program is to ensure that all children in the community have access to good quality reading material. With emphasis of reading and exposure to material, Libraries aim to help improve reading ability of children in the 6-14 age group. Pratham Libraries are mostly based in shared community spaces or in homes of volunteers. By enabling a 1,000 villages/communities or more to have Libraries, we hope to move towards creating a learning environment in each of these communities.
Libraries are stocked with material suitable for children and young people, including:
Books according to the reading level of children
Magazines and interesting books with colour and big fonts
Other material especially relevant to the community
Activities conducted in a library normally include:
Story reading
Story telling
Picture reading
Fun activities
Drama & Role Play
Book Making
Impact:
Ten year old Priyanka studies in Grade 5 in a Government School in Barabanki, Uttar Pradesh. She lives with her parents in Ibrahimabad, a low income neighborhood. Priyanka has one brother and 1 sister. Her father is a farmer by profession while her mother is a housewife. When Pratham conducted a survey in her area a year ago and tested all the children for proficiency in various subjects, the tests revealed that Priyanka could only identify alphabets. This led her father to enroll her in the Pratham Summer Camp which was located in close proximity and was taking place during summer vacations. Over the course of the year, Priyanka has learnt to read and write with the help of Pratham's special teaching techniques, as well as the care and attention of her Pratham-trained teacher. Priyanka loves to attend school and the learning camp. Her teachers say that she is an extremely bright child who is focused and dedicated. Priyanka also loves to play games. In her spare time, she likes to play hockey and kabbadi with her sister. Despite being literate, her father looks into her studies every evening when he comes home from work. When she grows up, Priyanka wants to be a teacher.