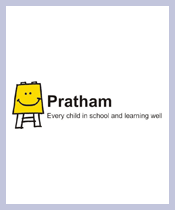 Pratham Education Foundation
B - 4/58, Safdarjung Enclave, 2nd Floor, New Delhi, Delhi, India, 110029
Founded Year: 1994
Cause category: Education
Telephone: New Delhi: (91) (22) 22819561/ 41651638 and Mumbai +91-22-22819561
Charity Bib Status:
Not Available
About NGO:
Pratham was established in 1994 in Mumbai. Since then, the organization has grown both in scope & geographical coverage. 19 years after its formation, Pratham has become a pan-Indian movement reaching millions of children in both rural and urban areas through a range of interventions across the country. Our programs are designed to address a gamut of educational problems – pre-school education, learning support to both in-school and out of school children, computer literacy, vocational training for youth and special programs for vulnerable and working children.
Currently, Pratham is working in over 20 states across the country. The main areas of intervention are listed below -
Read India- Improving learning outcomes of children between the ages of 3 to 14.
Annual Status of Education Report - a citizen-led assessment of children's basic learning outcomes for children in the age group 5 to 16.
Second Chance- helping youth, especially girls who have dropped out of school to complete their secondary school certification
Pratham Institute is the vocational training arm of Pratham and works with rural and semi-urban unemployed and underemployed youth to provide them with access to training to reach employability.
Fundraisers supporting this NGO:


Fund Usage:

Pratham welcomes the support provided by the Standard Chartered Mumbai Marathon 2015 and would like to utilize the funds raised towards the Second Chance program.
The program helps young women that have dropped out of school to complete their secondary school education.
The program is currently present in 7 states and reaches of 4000 students annually.
Impact:
Ten year old Priyanka studies in Grade 5 in a Government School in Barabanki, Uttar Pradesh. She lives with her parents in Ibrahimabad, a low income neighborhood. Priyanka has one brother and 1 sister. Her father is a farmer by profession while her mother is a housewife. When Pratham conducted a survey in her area a year ago and tested all the children for proficiency in various subjects, the tests revealed that Priyanka could only identify alphabets. This led her father to enroll her in the Pratham Summer Camp which was located in close proximity and was taking place during summer vacations. Over the course of the year, Priyanka has learnt to read and write with the help of Pratham's special teaching techniques, as well as the care and attention of her Pratham-trained teacher. Priyanka loves to attend school and the learning camp. Her teachers say that she is an extremely bright child who is focused and dedicated. Priyanka also loves to play games. In her spare time, she likes to play hockey and kabbadi with her sister. Despite being literate, her father looks into her studies every evening when he comes home from work. When she grows up, Priyanka wants to be a teacher.