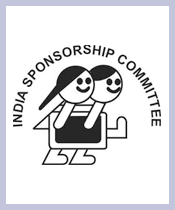 India Sponsorship Committee
43/45, Mathuradas Estate, Bldg. 1, 2nd Floor, Shahid Bhagat Singh Marg, Colaba Causeway, Mumbai, Maharashtra, India, 400001
Founded Year: 1967
Cause category: Children
Telephone: 022-22040321
Charity Bib Status:
0 Available
Raised by 0 contributors.

About NGO:
In 1967, the India Sponsorship Committee, a registered organization, took the initiative to act in favour of children, to light up their life with the torch of Education. The Right to Education meant giving the underprivileged child the gift of opportunity by providing their families with enabling support. Having pioneered the child sponsorship programme in collaboration with other child welfare agencies as project partners, the concept of community partnership evolved with a community based programme and a focus on child-centric development.
The mission of the India Sponsorship Committee is to provide children in need the support required by them for an education that offers them opportunities that develop their full potential. Further, it seeks to create opportunities for children to become responsible, contributing members of society by helping them meet their family, social, emotional, physical and spiritual needs.
Fund Usage:

In 1970, Antar Bharati Balgram was started as a home for orphan & destitute children living in sadans under the care of a foster mother. A secondary school and an Industrial Training Intitute, on campus, ensure their complete rehabilitation in society by the time they are adults. Funds for the successful running of these institutions is a constant endeavour, and any extra support would go a long way in ensuring that these institutions continue the good work they have been doing these past 50 years!!
The Urban Community Project in Pune is involved with child education, gender, child's rights, early childhood interventions and women's empowerment. Additional funds would ensure not only the continuation of these activities, but also introduction of new activities.
Impact:
DEVIDAS KUMAR - Devidas and his brother were referred to Balgram at the age of 4 years, after they witnessed their Mother being burnt alive by their father in a fit of drunken rage. After studying in the Balgram School and completing his high school, Devidas enrolled in the electrical trade of the Industrial Training Center on the campus. After a two year study course, he topped the exam in the Center with 80% marks and was taken by L&T as a Trainee in their Ahmednagar factory. Today he is gainfully employed, and drawing a salary on which he can live comfortably.