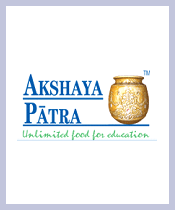 The Akshaya Patra Foundation
703, Shapath-1,opp. Rajpath Club,s G Road, Ahemdabad, Gujrat, India, 380054
Email: shridhar.venkat@akshayapatra.org
Website: www.akshayapatra.org

Charity Bib Status: Sold out

About NGO:
The Akshaya Patra Foundation came into being in the year 2000 to address two of the most immediate challenges of India - hunger and education by providing unlimited, wholesome food to attract children to schools, retain them, and then focus on children's holistic development. A secular, charitable organization, Akshaya Patra offers unlimited, nutrition-rich food everyday to underprivileged school children in about 8000 plus government schools in 20 locations, across 9 states of India.
For many of our children, the Akshaya Patra meal is the only complete meal that they have access to during the entire day. This has produced dramatic results in terms of enrollment, attendance, and attention spans in the classroom and has also boosted children's overall health and wellbeing.
Fund Usage:

We began this initiative with the vision that "No child in India shall be deprived of education because of hunger."
Mission and goals
The money raised through the SCMM '13 shall go towards sponsoring the school mid day meals of 10, 000 underprivileged children studying in Government and Government aided schools for a period of one year, the programme aims;
To end extreme poverty, hunger and malnutrition of underprivileged children.
To facilitate basic education of children as nutritious meals in school encourages enrolment and attendance and reduces drop outs.
To meet energy and protein needs of school going children so that they do not suffer from physical and cognitive problems.
To meet energy and protein needs of school going children so that they do not suffer from physical and cognitive problem
To enhance performance in schools by addressing short attention spans associated with extreme hunger.
To build resilence against illness due to poor nutrition.
Impact:
Hetal is studying in the fifth standard. Her father is a daily wage earner with no fixed income. So there were many days when the whole family went without even one full meal. Though her mother wanted her to go to school, she was often tempted to work with her mother as domestic help so that she could ensure at least one full meal for herself. Education and going to school was a distant dream. However with Akshaya Patra meal, Hetal's parents were motivated to send her and all her brothers and sisters to school everyday. She comes to school regularly now and has made considerable progress in studies. As she waits eagerly for lunch time when she will get her only meal of the day, she is thrilled about sitting and eating together with many other friends. When asked what she would want to become in future, the innocent girl says with a sparkle in her eyes "a teacher". " I don't have to bother about my children's hunger during the day. They are well fed and healthy now. On top of that they are studying well and will not be growing up illiterate like me.", says Hetal's mother
Page Url :
http://www.unitedwaymumbai.org/ngo179_akshayapatra.htm
Online donations are now closed for SCMM'13'
Founded Year:
2001
Cause category: Education
Our Supporters
You can raise funds by placing this donation widget on your web page or blog. Please click on the image.