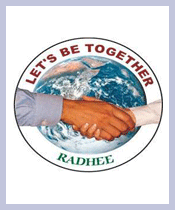 RADHEE Disaster and Education Foundation
11-b/11, Mani Bhuvan, Jawahar Nagar, S.v. Road, Goreagon West, Mumbai, Maharashtra, India, 400062
Founded Year: 2010
Cause category: Disability
Charity Bib Status:
Not Available
About NGO:
RADHEE Disaster and Education Foundation is a registered nonprofit organization. It works in the field of Accident, Post accidental disability, Disaster Management, Health, Education and Environment.
RADHEE's Motto: Reduce the Disability and Save Life by Education in Safer Drive, Safer Travel and Prevention of Accident
RADHEE's Objective: Trained Right Help, Early Help
The "Save Life" project was launched to reduce their frequency and mitigate the impact/ damage or loss caused by their occurrence. 0.02% Indian population become disable every year due to accident, 15 people die every hour in road accidents in India. 60 are seriously injured every hour. Age group is 18-40. Accidents cause loss not only to the family, but also the nation with 2.5% GDP loss. Post-accident disability is a burden to the family and the society
Most of the deaths or disabilities happen due to delay in treatment or mishandling the injured people before shifting to a stretcher.
Fund Usage:

Save Life Project- Say NO to disability post accident - Safer Drive, Safer Travel and Prevention of Accident
Fund Raised will be used for following matters Developing a team of trained volunteers to cover the identified accident spots on road and rail.
Enrolment of College and school students for the safer drive programs by lectures, competitions, movies, banners etc
Communicating to the government
- To improve the infrastructure for early response to accidents
- To strengthen the vulnerable areas
- To change their policies in order to reduce accidents and develop early response system of free ambulance
Training of Government hospital staff to Handle Trauma Care Patients
Mass awareness during Road Safety time to time.
Enrolling Rickshaw, taxi, truck and bus drivers (public transport) for safer drive.
Impact:
Last year few programs were done with western railway for developing team of trained volunteers from Chruchgate to Boriviali Every station along with western railway staff and porter/shoe polish boys were trained for life saving first aid. Awareness program was done with support of NCC students & other NGO at platform to reduce the number of accidents Impact- Till now few programs from Churchgate to Borivali station of western Railway could reduce the death by 10%. i.e. 2 per day. (this data came from the press note given by the western railway).
Communication with the railway board and government to improve the policy for early response to accident is in process. Railway is read to update its first aid box and on Road vulnerable area is identified with the help of traffic police.