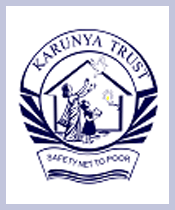 Karunya Trust
Karunya Trust, Vatika Building, 302 Plot No.39-40 Hanuman Road,i.i.t.p.o. Powai, Mumbai, Mumbai, Maharashtra, India, 400076
Email: karunyatrust@hotmail.com
Website: www.karunyatrustonline.org

Charity Bib Status: Sold out

About NGO:
Karunya Trust is a Multi- religious Non-Governmental Organization, registered under the Bombay Public Trust 1950. It is engaged in the development of the poor, irrespective of caste, creed and religion and the areas of intervention are health, education, gender empowerment, rural housing, relief and rehabilitation along with disaster preparedness.
Karunya Trust is empowering the rag picking children residing at the Deonar Dumping yard at Govandi through non formal education and health care. It also provides educational support to poor school going children through different schemes and Gyanmithra-educational programme exclusively for the children of people living with HIV/AIDS. The health related activities include Dispensries, medical camps and health education programmes. It provides community based care and support to 1675 people living with HIV/AIDS and to 1332 children who are infected and affected by HIV/AIDS.
It is working with the marginalized communities of 135 villages residing at Ambernath, Kalyan and Bhiwandi Talukas of Thane district through the women empowerment programme by forming women self help groups, linking with banks and creating alternative livelihood options. Karunya promotes the sustainable agricultural programs along with disaster preparedness in the 31 flood prone villages of both talukas reaching out to 4532 households. The rural housing provides shelter for the rural folk who are handicapped, widows and SC/ST people in the target areas.
Fund Usage:

Karunya Trust has initiated the project 'Gyansaathi' for the development of hundreds of rag picking children between the age group of 3 to 18 years and their families working in the Govandi dump yard of Mumbai since July 2011.As many young children start rag picking at the age of 5 to 8 and most never attend any school or have any formal education. Gyansaathi aims emphasizes the need to feed, educate and uplift these rag picking children through non formal education, supplementary nutrition and medical care, thus improving the quality of life of them. As the project completed one year of its initiation, out of 104 dropout children, 94 are mainstreamed in to BMC, Open schools Balwadies and Private schools during the academic year.
Karunya Trust promotes the education of all the children through innovative and integrated educational approach. (UN Millennium Development Goal of achieving universal primary education by 2015).
The funds raised from SCMM will go towards
1. The educational expenses, with quality health care and providing supplementary nutrition to the rag picking children at Gyansaathi.
2. Providing vocational support to the adolescent children and equip them with skills to cope with situations.
3. Awareness generation: Acquainting children, parents and the general public on Right to Education and promote child rights.
We request the donors to contribute generously for the cause and support Karunya in the endeavor to promote education.
Impact:
A journey from waste to worth-
What do children do at the age of 12 or 13? They would go to school, play with friends and lead a carefree life. But for 12 year old Irfan it was different. If you can remember your childhood vividly and are nostalgic right at this moment, Irfan faintly remembers.
Being the oldest boy in the house he was asked to look after the siblings (5 brothers and 2 sisters) and help the parents in segregating the waste materials which they collect from the dumping ground. He is never been to school due to the circumstances.
In July 2011 the social worker's continuous meeting with him at the dumping ground brought Irfan to Gyansaathi. It was difficult for Irfan to sit in a place even though the teachers did their best. Gradually Irfan started understanding the 'Swar' 'Barakhadi' and 'Shabd'.
Meanwhile his parents decided to send him to work in a garment factory to earn more. During the Social workers home visit, the parents made excuses about his absence. Irfan became seriously ill due to his laborious works; his parents brought him to Gyansaathi for help. He got admitted in the Government hospital, simultaneously the parents were counseled which brought back Irfan to Gyansaathi.
During this academic year he is enrolled in 3rd std. in the nearby BMC School for the first time. In June he started to go school with lot of enthusiasm and in the afternoon comes to Gyansaathi and update about his experience in the school. He motivated his siblings and other children to join Gyansaathi and now 146 children coming to the centre dreaming of a better future.
Page Url :
http://www.unitedwaymumbai.org/ngo177_karunyatrustonline.htm
Online donations are now closed for SCMM'13'
Founded Year:
1999
Cause category: Education
Our Supporters
You can raise funds by placing this donation widget on your web page or blog. Please click on the image.