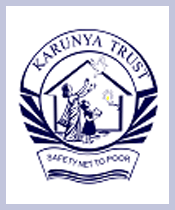 Karunya Trust
Karunya Trust, Vatika Building, 302 Plot No.39-40 Hanuman Road, I.i.t. P.o. Powai, Mumbai, Maharashtra, India, 400076
Founded Year: 1999
Cause category: Education
Telephone: 022-25785515
Charity Bib Status:
0 Available
Raised by 22 contributors.

About NGO:
Karunya Trust, registered under Bombay Public Trust Act 1950, set its spectrum of activities through multi-ethnic and multi-religious cooperative efforts. The formation of Karunya Trust aims at providing a 'safety net to poor', particularly disadvantaged children and women. The major thrust areas are Education, Livelihood, and Health and Environment issues.
Karunya Trust focuses on Education with an objective to promote integrated and sustainable education among various groups of children such as rag picking children at Govandi dumpyard, the children of the People Living with HIV/AIDS at BMC S ward, economically backward children at the Karunya Nodal centers and tribal children at Ambernath & Kalyan Taluka.
It focuses on Health issues to promote preventive, sustainable, curative health care and services through holistic approach targeting on community participation and leadership.
The Livelihood issues of the widows, marginalized farmers and unemployed youth aims to promote sustainable, livelihood interventions depending on people's needs and capacities.
It focuses on the Environmental and Ecological issues are dealt with an objective to promote healthy environment within the existing natural resources.
Fundraisers supporting this NGO:


Impact:
An Undiscovered Treasure …
"What do children do at the age of 14 or 15? They would go to school, play with friends and lead a carefree life. But for 15 year old Irshad it was different and he doesn't want to recall …"
Irshad (name changed) is a 15 year old boy stays with his family in one of the project area. His father, a drunkard, working in the dump yard, while his mother did odd jobs and supports the family. Irshad became a drop out in the 6th class and was forced to go to the dumping yard to earn the living. The father used to abuse him and the mother for money. Through the constant intervention of the Social workers, he has joined Gyansaathi.
He was reluctant to come to the centre, yet due to his wish to escape from the stressful situation motivated him to join the centre. Initially he was very untidy, poor in personal hygiene with lot of mood swings when he comes to class. Meanwhile he lost his father and stopped coming to Gyansaathi, convinced by the staff he joined the centre. He showed steady progress in studies and was enrolled in the NIOS Level B in 2012.He has cleared the same and currently studying in Level C. Also he joined the 6 months ITI Automobile Course at Mulund in May 2013, today he dreams about a bright future.
The behavior change in Irshad encouraged other children to join Gynasaathi. Today Irshad…an Undiscovered Treasure plays the role of a good Ambassador of Gyansaathi Educational program & Children's Parliament in the area.