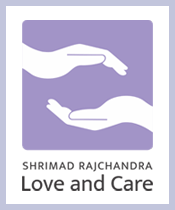 Shrimad Rajchandra Love & Care ( Shrimad Rajchandra Sarvamangal Trust)
10 - B, East Wing, 10th Floor, Bombay Market Apartments 78 - Tardeo Road, Mumbai, Maharashtra, India, 400034
Founded Year: 2003
Cause category: Health
Telephone: 022-23511352
Charity Bib Status:
0 Available
Raised by 3 contributors.

About NGO:
Shrimad Rajchandra Love and care is an initiative to bring joy and offer services to all living beings. This ten-fold programme is the result of Shrimad Rajchandraji's all pervading love and care, encompassing the entire universe.
International Headquarters:
Shrimad Rajchandra Ashram, Mohangadh, Dharampur-396050,
District-Valsad, Gujarat, India.
Tel.no. +91 2633 241600
Admin Office:
10-B, East Wing, Bombay Market Apts,
78 Tardeo Road, Mumbai-400034.
Tel.no. +91 22 23511352
Email: loveandcare@shrimadrajchandramission.org
Website: www.srloveandcare.org
Fundraisers supporting this NGO:


Fund Usage:

Shrimad Rajchandraji is the divine source of inspiration behind this monumental sevajana (seva movement), and each seva activity is undertaken with an attitude of love and care. Not because 'I have to', or 'it is my duty', but because 'I love'. Not donation born out of pity but an expression of care. Duty and pity fall short of true love and care, hence the name Shrimad Rajchandra Love and Care.
Included in this programme are 10 Cares related to mankind, animals and the environment. Each care has 5 key projects under it, thereby widening the reach of the service initiatives. Under PujyaGurudev's able guidance, the programme is making giant strides in the direction of universal upliftment.
Health Care
Educational Care
Child Care
Woman Care
Tribal Care
Community Care
Humanitarian Care
Emergency Relief Care
Animal Care
Environmental Care
Achievement of Shrimad Rajchandra Love and Care
Lacs of patients from rural areas treated by Shrimad Rajchandra Hospital
Award of excellence for collecting the 2nd highest units of blood in the Valsad and Dang District
Over hundred thousand school children benefitted through various educational initiatives
Over 1 million teaching aids distributed at subsidized rates
Shrimad Rajchandra Pavilion provides Library and Indoor games facilities to more than 200 schools and 25,000 students
Over 18,000 lives benefitted from Humanitarian Care activities
Educational aids distributed in Leh for 1500 children with 'Save the Children' foundation
Over 15,000 animals saved, treated and rehabilitated across Panjrapoles across India
Thousands of trees saved in one year as the Mission shifts to recycled paper for publications.
Impact:
Health Care -
Shrimad Rajchandra Hospital,
Shrimad Rajchandra Viklang Centre,
Free Medical Camps etc.
Educational Care
Jivadaya
Humanitarian