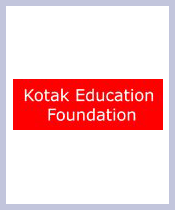 Kotak Education Foundation
1st Floor, North Side, Ujagar Silk Mill, Sunder Baug, Opp Deonar Bus Dept, Off. Sion Trombay, , Mumbai, Maharashtra, India, 400088
Founded Year: 2007
Cause category: Children
Telephone: 022-25482325
Charity Bib Status:
0 Available
Raised by 0 contributors.

About NGO:
KEF provides solutions in Education and Livelihood to empower underprivileged children and youth to attain a life of dignity.
KEF partners with 26 vernacular schools catering to underprivileged children and runs the following:
Spoken English Programme: Training Secondary students in 'Spoken English'; to help them get ready for college / jobs.
Health: Addressing the health issues such as eye-sight, malnutrition, anaemia, hygiene, etc. which could potentially deter them from education.
Scholarships: A scholarship-cum-mentoring programme for Secondary students facing extreme hardships in life. Support through Coaching classes, Counselling students and guardians, exposure visits, Personality development workshops and Medical assistance. KEF also provides Junior College Scholarships for bright students through monetary assistance for academic coaching, mentoring,counselling, and career guidance.
Teacher Training: KEF trains school teachers of the partner schools to improve their teaching skills through Workshops on English and communication skills, Workshops on Pedagogy and Mentoring
School Leadership: KEF conducts Leadership programs for the Headmasters and Supervisors of the Partner schools through workshops to help them acquire Management and Leadership skills
Parent Intervention: Parents from BPL families are helped by creating awareness about conducive education environment, parental support, health, hygiene and diet.
Livelihood: KEF provides Vocational Training to Education Dropouts, including Placement
Fundraisers supporting this NGO:


Fund Usage:

Kotak Education Foundation (KEF) is an NGO operating in the space of Education and Livelihood since 2007. Its primary focus is to help poor children and youth to be empowered through education and livelihood respectively, such that their family will rise out of poverty and they can live a life of dignity. It runs numerous projects having Student Interventions (Spoken English teaching, Health, Scholarship, Mentoring), Teacher Intervention (Training school teachers), School Leadership Intervention (Helping build Principals as School Leaders), Parent Intervention (Counselling parents to support child development) and Vocational Training to youth at 8 centres in Mumbai / Thane. Most of the interventions are conducted through partnership with 26 schools which cater to to underprivileged children. KEF has support functions in the form of Finance, HR, IT, Admin and Research.
KEF is planning a growth in the next 2 years, with totally about 35+ schools to be partnered with and 15+ vocational training centres. KEF's presence is and will continue in Mumbai and to some extent in neighbouring districts (Thane and Raigad).
KEF intends to spend the funds raised through the SCMM event in the above projects
Impact:
Haseena Shiekh: The aspirant from Bhandup centre lives in from Khindipada, Her father is roadside vendor. She is separated from her husband.
Being a conservative family, her parents were reluctant to allow her to work. After a series of counseling they agreed. She was trained in Customer Service & Retail course for 3 months. The aspirant presently works at the Adidas store at Ghatkopar, she has a monthly earning of Rs. 7000 + Incentive. Now, in her spare time, she helps the facilitators at the Bhandup centre voluntarily to mobilise more like her
She says "It was impossible for a below SSC student to get a job at such a elite place like Bandra". She enjoys working there, sometimes even meeting her favorite film stars