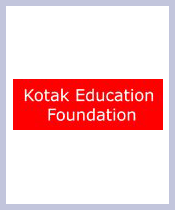 Kotak Education Foundation
1st Floor, North Side, Ujagar Silk Mill, Sunder Baug, Opp Deonar Bus Dept, Off. Sion Trombay, , Mumbai, Maharashtra, India, 400088
Founded Year: 2007
Cause category: Education
Telephone: 91-25482325
Charity Bib Status:
Not Available
Raised by 226 contributors.


Donations for SCMM 2015 are closed. Thank you.
About NGO:
Since 2007, KEF has worked in two streams - Education and Livelihood.
In the former, it has partnered with over a dozen schools with over 20000 students from under-privileged backgrounds in urban and rural areas in Mumbai, Thane and Raigad districts and assist them in training the trainers (school-teachers), working with the children on enhancing their English speaking skills, Life-skills, Health, hygiene and nutrition and working with parents to assist their children.
In the latter, it runs vocation-oriented training for youth from the underprivileged class of society - in the domains of Hospitality, Customer Relations & Sales and ITES. It assists in job-placement through tie-ups with corporates in upwardly mobile jobs. Till March 2011, over 3200 youth have been trained and over 2500 placed in jobs.
Fundraisers supporting this NGO:


Fund Usage:

The projects are entirely funded by trustees, and no external funding is sought. The purpose of registering is to create awareness
Impact:
Haseena Shiekh: The aspirant from Bhandup centre lives in from Khindipada, Her father is roadside vendor. She is separated from her husband.
Being a conservative family, her parents were reluctant to allow her to work. After a series of counseling they agreed. She was trained in Customer Service & Retail course for 3 months. The aspirant presently works at the Adidas store at Ghatkopar, she has a monthly earning of Rs. 7000 + Incentive. Now, in her spare time, she helps the facilitators at the Bhandup centre voluntarily to mobilise more like her
She says "It was impossible for a below SSC student to get a job at such a elite place like Bandra". She enjoys working there, sometimes even meeting her favorite film stars
More Related
About SCMM 2015
Participating Charities
Corporate Teams
Individual Fundraisers
Student Challenge
Fundraiser Levels & Privileges
How It Works
Fundraising Kits
Charity Bibs
Frequently Asked Questions
Downloads
The Superhero Rises!
Click to watch the video.