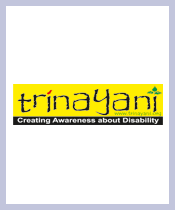 Trinayani
828/1, Block-p, New Alipore, Kolkata, Maharashtra, India, 700053
Email: Trinayani.contact@gmail.com, shobhasachdev@yahoo.com
Website: www.trinayani.org

Charity Bib Status: Not available

About NGO:
Trinayani founded by Ritika Sahni has been working 6 years towards spreading awareness on cross disability issues and generating employment for persons with all disabilities.
Our aim is to communicate APPROPRIATE INFORMATION on disability issues, to portray messages which convey the fact that Diversity is Good, Diversity is Needed and Diversity adds Value to our lives.
We believe that weaving socially responsible information into pure entertainment might be the quickest way to reach the masses, to make a positive impact on relevant social issues.
We conduct:
Disability Awareness Workshops for the academic community and the corporate community.

Sign Language workshops,
Disability Awareness Film Screening Workshop,
Triumph Together Inclusive Visual Arts Workshop.
Produce Disability Awareness Films and impress upon the Satellite Channels to air it as Public Service Messages.
Publish and distribute Awareness Literature
Produce the same awareness literature in Braille too.
Produce short awareness films
Run and Manage a Foot Spa employing blind persons who are trained Massage therapists.
Liaising with NGOS and Corporate sector to create employment opportunities for persons with disabilities.
Fund Usage:

1. Training, grooming and placement of Blind Persons in Reflexology Massage therapy to be placed in different parlors across the country.
2. Creating an Advocacy Music Video for Mass sensitization to be aired in multiplexes across cities during World Disability week.
3. Increasing the reach of our Radio Show MUD MUD KE NA DEKH on Cross disability issues in the country by airing them in the All India Radio Vividh Bharti Network. Currently it is being aired in Mumbai and Delhi.
4. Sustain and expand the reach of our services.
Impact:
1. Sparsh Foot Spa is in its 10th month, successfully providing sustained livelihoods to 3 Blind persons and using their services to advocate the abilities of persons with visual impairment.
2. Publishing THIS-ABILITY articles (exploring intriguing lives of persons with disabilities, written by professional writer) in Navhind Times,. Panorama, Goa, Betterindia.com, The Telegraph Kolkata, One India One People Magazine since April 2012.
3. Provided employment to 8 intellectually impaired, 4 hearing impaired adults at SAI SERVICE AUTO STATION, Mumbai in 2012.
4. As an Advocacy initiative among the academic community Trinayani was Instrumental in getting their poem I AM SPECIAL, SO ARE YOU incorporated in the CBSE Curriculum of Class 10 in the English Communicative Course.


Page Url :
http://www.unitedwaymumbai.org/ngo166_trinayani.htm

Online donations are now closed for SCMM'13'
Founded Year:
2006
Cause category: Disability
You can raise funds by placing this donation widget on your web page or blog. Please click on the image.