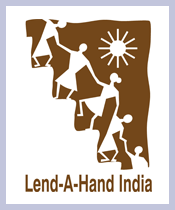 LEND - A - HAND INDIA
9, Jeevan Vihar Soc., Off Senapati Bapat Rd., Near Pride Panorama , Pune, Maharashtra, India, 411016
Founded Year: 2006
Cause category:
Telephone: 020-25630092
Charity Bib Status:
6 Available
Raised by 0 contributors.

About NGO:
Lend-A-Hand-India has been working in education sector for more than a decade now. We have been working on improving the quality of secondary education towards solving the bigger issue of youth unemployment. We primarily address disconnect between education imparted in schools and skills needed in real life, by incorporating job and life-skills training as a part of the secondary school curriculum, especially in rural areas. Our programs provide vocational training, career development, employment, and entrepreneurial opportunities to young boys and girls in rural and urban communities.
Having worked with nearly 100 schools, we have touched lives of more than 9000 students across Maharashtra, Goa, Karnataka, Gujarat and UP. We have been running programs like Project Swadheen, Plan 100, Project Disha, Micro Enterprise Development and Junior Rural Fellowship.
With the introduction of Govt. of India's initiatives like Rashtriya Madhyamik Shiksha Abhiyan , National Skills Qualification Framework etc., now emphasis is on bridging the gap between general and vocational education and focus on quality and practicality. Several years of efforts with Government of Maharashtra and different Boards of Education have resulted in making our curriculum and methods available to secondary schools in Maharashtra and recognized by State Board of Education.
Fundraisers supporting this NGO:


Fund Usage:

We at Lend-A-Hand India not only believe that education is every kid's right but also a quality education is. We have been working relentlessly trying to bring practical and occupational education to students who after secondary education either drop out or under-take menial jobs or are clueless what to do ahead to build a secure future for themselves. We have been doing so through introducing our methods and tools by intervening secondary schools in rural and now urban areas as well. Our programs have proved to not only decrease the drop-out rate because of its experiential teaching methods but also resulted in an increase in enrolment rate.
We earnestly appeal you to make your run this year more meaningful by helping us and hence these children to achieve their dream of a good and secured life. Like every year, we intend to utilise the funds raised through Mumbai Marathon in establishing labs, buying technical equipment, providing remuneration to instructors and helping more and more schools enabling them to run this curriculum in their campus.
Impact:
The impact achieved so far is:
Increase in Enrollment in high school, some schools have added special divisions for this program Close to 100% attendance in school when the program is conducted
Life Skills Index (85 vs. 30 in control schools on the base of 100)
Over 5-6 times increased in the number of students admitted to post-secondary Diploma in Engg or Industrial Training Institutes (ITI) (25-30% of the class vs. less than 5% in control school) Revenue earned per school - Rs. 20-25,000 per school per year
Over 20% of the students stated they would like to start their own venture after they completed their further studies
In schools where LAHI has introduced the course, attendance has gone up and dropout rates have gone down. Students who were performing poorly in academics also show increased interest and performance. Parents of the students have also started demanding quality education for their children.