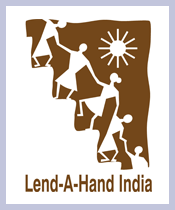 About NGO:
Lend-A-Hand India is a leading multi-state NGO with presence in Maharashtra, Karnataka and Goa working at the intersection of education and livelihood. We work with government schools to make the high school education practical and relevant by providing job/life skills training to young boys and girls from rural India.
The program is delivered in the school premises by the local entrepreneurs whom we recruit and train to be instructors. Students complement their academic education with practical, learning by using 'learning-by-doing' method in various aspects of running a business, namely manufacturing, accounting, finance, marketing and customer service and earn real revenue. The program has led to increase in enrollment, enhancing academic performance, and reduction in the dropout rates. By the end of class X, students are exposed to more than 20 different skills. Currently more than 10,000 young boys and girls from over 60 villages hare being covered under this program.
Our co-founder, Sunanda Mane was recently awarded the prestigious Ashoka Fellowship for the approach and work done by Lend-A-Hand India. (http://india.ashoka.orgifellow/sunanda-mane)
Website: www.lend-a-hand-india.org
Watch a short film: http://www.lend-a-hand-india.orgAplan100
Fund Usage:

The funds raised will be used to provide job and life skills training as part of the secondary school curriculum of high schools from rural India.
Impact:
The impact achieved so far is:
Increase in Enrollment in high school, some schools have added special divisions for this program Close to 100% attendance in school when the program is conducted
Life Skills Index (85 vs. 30 in control schools on the base of 100)
Over 5-6 times increased in the number of students admitted to post-secondary Diploma in Engg or Industrial Training Institutes (ITI) (25-30% of the class vs. less than 5% in control school) Revenue earned per school - Rs. 20-25,000 per school per year
Over 20% of the students stated they would like to start their own venture after they completed their further studies
In schools where LAHI has introduced the course, attendance has gone up and dropout rates have gone down. Students who were performing poorly in academics also show increased interest and performance. Parents of the students have also started demanding quality education for their children.
Page Url :
http://www.unitedwaymumbai.org/ngo165_lendahand.htm
Founded Year:
2006
Cause category: Education
Telephone: 020-25630092