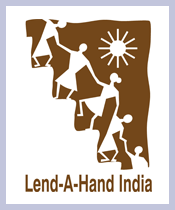 LEND - A - HAND INDIA
9, Jeevan Vihar Soc., Off Senapati Bapat Rd., Near Pride Panorama. Pune, , Pune, Maharashtra, India, 411016
Founded Year: 2006
Cause category: Education
Telephone: 020-25630092
Charity Bib Status:
Not Available
Raised by 0 contributors.


Donations for SCMM 2015 are closed. Thank you.
About NGO:
LAHI provides vocational training, career counselling, enterprise loans to young entrepreneurs & high school boys & girls in rural parts of India.
Currently its program are offered to over 13,000 students from 100 villages in Maharashtra, Karnataka, Goa, Gujarat & Uttar Pradesh.
Fund Usage:

The money raised through Mumbai Marathon will be used to provide Job & Life Skills Training to over 1000 young boys & girls studying in high schools in rural India.
Impact:
The impact achieved so far is:
Increase in Enrollment in high school, some schools have added special divisions for this program Close to 100% attendance in school when the program is conducted
Life Skills Index (85 vs. 30 in control schools on the base of 100)
Over 5-6 times increased in the number of students admitted to post-secondary Diploma in Engg or Industrial Training Institutes (ITI) (25-30% of the class vs. less than 5% in control school) Revenue earned per school - Rs. 20-25,000 per school per year
Over 20% of the students stated they would like to start their own venture after they completed their further studies
In schools where LAHI has introduced the course, attendance has gone up and dropout rates have gone down. Students who were performing poorly in academics also show increased interest and performance. Parents of the students have also started demanding quality education for their children.