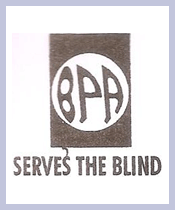 BLIND PERSONS' ASSOCIATION (Erstwhile BLIND MEN'S ASSOCIATION)
C/o. National Association For The Blind,rustom Alpaiwalla Complex,124/127,cotton Depot,near Ray Road Railway Station ( E ), Cottongreen, Mumbai, Maharashtra, India, 400033
Founded Year: 1947
Cause category: Disability
Charity Bib Status:
Not Available
Raised by 0 contributors.


Donations for SCMM 2015 are closed. Thank you.
About NGO:
The Blind Persons' Association, erstwhile known as The Blind Men's Association is a registered voluntary charitable organization, has been working since October, 1947 for the betterment of blind individuals residing in Mumbai and its suburbs & adjoining districts of Thane & Raigad. BPA caters to the needs of non institutionalized blind persons hailing from weaker economic strata.
Our Activities :
Scholarship & Educational Assistance to blind students and sighted children of blind parents.
Help the Aged Scheme
Medical Assistance
Financial Assistance for Basic Needs & to meet unforeseen expenditure
House Repair
Self Employment Project
Aids & Appliances at subsidized cost
Recreational & Cultural Programme
Workshops &Counseling Services
Fund Usage:

MEDICAL CORPUS FUND
BPA already has a Medical assistance Scheme wherein assistance approximately worth Rs.50,000/- is given in a year to the beneficiaries undergoing treatment of various ailments. Required medicines are provided based on the prescription of the Medical Practitioners and Medical Reports. The medical treatment getting costlier day by day, we find this amount inadequate. Besides , it becomes very difficult for us to cater to the needs of no. of patients, suffering from chronic ailments like Schizophrenia, Cancer, Diabetes, Kidney failure, Heart Disease etc. In this scenario, we wish to increase the amount substantially. We have therefore decided to create a Corpus of Rs.10,00,000/- so that interest accrued upon will be utilized for the same
Impact:
Well known as the "Mill master", totally Blind, Shankar Kumbhar's Mill closed down in the year 1995 when he was 55 years of age. Due to the closure, Shankar Kumbhar was drowned down with the feeling of idleness and wastefulness. The money that the mill had produced was borrowed by one of his relatives who blew it up, failing the promise of returning it. The mill master was so shocked with the horror of this incident, that it caused him to loose his eye sight. In spite of these ill occurrences, Shankar Kumbhar continued to strive by selling pickles and popodums in the market. During this time he learned about the existence of our organisation and contacted us.
When in contact with us, we registered him into our 'Senior Citizen Scheme' and we started providing him with the necessary support and boost. We also continuously kept counseling him to keep his spirits high. On the basis of this support, he was enabled to provide his children with good education. His son, Anant Kumbhar studied to become an IT engineer. While the condition of the household had improved, Anant told us that the help that the organisation had provided to his father had already borne fruit, so we could rather provide that help to other needy people instead of Shankar. And that was not all. Anant also offered help to the organisation from his end.