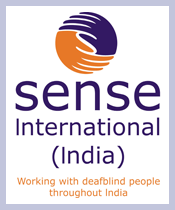 Sense International India
Sense International (india), 2nd. Floor, Admin Block, Andhjan Mandal Campus, Vastrapur, Opp.iim, Ahmedabad, Gujarat, India, 380015
Founded Year: 1997
Cause category: Disability
Telephone: 079-26301282
Charity Bib Status:
0 Available
Raised by 0 contributors.

About NGO:
Sense International India was established in 1997 as the first national level nongovernmental organization in India to support the development of comprehensive services for people with deafblindness. When Sense India first started its work there was only one deafblind service in the entire country that was reaching out to just 23 children. From there we have succeeded in setting up and supporting over 57 programmes in 23 States across India, reaching out to over 71,500 people with deafblindness and Multi Sensory Impairments (MIS) and their families. However this is still a fraction of the total estimated population of 500,000 persons with deafblindness in India.
Deafblindness is a unique disability, a combination of vision and hearing loss in an individual leading to the complex problems in communication, mobility and accessing information. Our vision is of a world in which all deafblind children and adults can be full and active members of society. Our purpose is to work in partnership with others- people with deafblindness, their families, care-givers and professionals. Our aim is to thus provide the information, guidance, support and training needed along with being committed to raising awareness and campaigning for rights, opportunities, and services for people with deafblindness
Fund Usage:

TO RAISE AWARENESS ON RIGHTS OF DEAFBLIND PERSONS. TO REACH OUT TO 100 DEAFBLIND CHILDREN, BUILD CAPACITY OF SPECIAL EDUCATORS TO PROVIDE NEED BASED QUALITY SERVICES TO DEAFBLIND PERSONS AND THEIR FAMILIES.
Sense International India's aim is to reach-out to maximum number of deafblind persons and their families in such a manner that they need not travel more than a day to receive quality services. There is also a need to establish quality service along with the setting up of an early identification system for infants at risk, to support and encourage teacher training in the field of deafblindness. To develop and expand the work being carried out by the three national networks of Deafblind adults (Udaan), parents (Prayaas) & teachers (Abhi-prerna) and the regional networks. Creating mass awareness and developing IEC (Information, Education and Communication) on deafblindness to be accessed by all.
Impact:
"I will succeed as I have given my best," says Meera
Seventeen year old, Meera has just given her board exams and is confident that she will pass with flying colours. She says, "I will succeed as I have given my best," and it seems like she has come a step closer to her dream of becoming a teacher- what a extraordinary dream! She has achieved her first goal of taking her board exams and her parents and teachers are very proud of her.
But just few years back the story was different as then you would have come across a very passive and aloof child with low vision and profound hearing loss. She could not make sense of the world around her until Sense India intervened through our partner organisation Andhjan Vividhlaxi Talim Kendra in Jamnagar. Our educators Madhavi and Bharti taught her to identify objects and express her basic needs through intensive training. Gradually they shifted their focus to school and started teaching her the same subjects at the center after school.
Today, Meera is a confident girl, full of eagerness to learn new skills. Apart from her studies she also helps her mother in household activities. She makes her parents proud specially her mother who has been a constant support in her life.