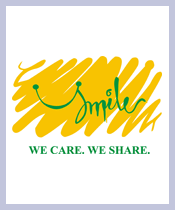 Society Moved to Instill Love with Empathy
254, Nepali House, Ground Floor, Walkeshwar Road, Mumbai, Maharashtra, India, 400006
Founded Year: 1997
Cause category: Others
Charity Bib Status:
Not Available
Raised by 0 contributors.


Donations for SCMM 2015 are closed. Thank you.
About NGO:
SMILE was established as a charitable NGO in 1997 in South Mumbai to address the social welfare needs of underprivileged children, women, isolated senior citizens and children growing up in rural areas. Our objective is to work in close coordination with our beneficiaries and enhance their development by providing education, rehabilitation, vocational and other training programs.
Our major target group is 'children' both from urban as well as rural areas. To data, SMILE has been extremely successful in touching the lives of more than 3000 children. Currently, our urban project entails sponsoring the education of 350 children by working in close coordination with seven schools in Mumbai. An even closer and critical coordination is required with the children's' parents to seek their cooperation in ensuring the academic success of their child. We are pleased to report that in the last 3 years, we have achieved a 100% result in terms of the pass rate and zero drop-out rates.
Fund Usage:

Rural Project: Currently, SMILE is in the process of setting up 'Balwadis' in rural areas to promote formal education at the pre-primary level. That is, education targeted to children in their critical developmental years (age two to six years). After conducting an exhaustive survey, we found that education to children in this age group is either severely lacking or non-existent in rural areas.
Therefore, we plan to either set up or repair the existing Balwadis in rural parts of India (starting with Maharashtra) and equipping them with the right educational material. This includes providing educational material similar to what is used in the Montessori schools of urban India and imparting instructions through a hybrid approach of a local Balwadi instructor and a DVD containing pre-recorded lessons from a highly skilled and certified Montessori teacher. In parallel, our team will work closely with the parents to seek their buy-in and support by ensuring that they send their children to the designated Balwadis regularly. We envisage this to be a large project with the potential of delivering promising results.
Nutritional Project: In order to ensure a healthy mind and body for our children the nutritional project was initiated. SMILE provides mini lunch (chapattis, vegetable and fruits) packets to children each day who come to our Day Care Centre at Babulnath. On every Saturday full Meal is arranged by SMILE.
Education Project: SMILE's main focus is education. Children from the lower income group whose parents cannot afford to send their children to coaching classes, come to SMILE's tuition classes and secure good marks as well as top the class. During the beginning of the academic year SMILE provides all the stationary and related recourses which the children require throughout the year. Along with Academics SMILE also works on developing the overall personality of the children. Various workshops and programmes are arranged for them to teach them new skills, increase their knowledge on various topics, to bring out their talents and to make them more confident.
Impact:
Rajesh Varatia:
Rajesh is with SMILE when he was only 14 years. He is a special child and failed in 5th std thrice. But he has extra ordinary skill of playing jugalbandi with table.
He performed his first stage performance in 1997 in Indradhanush (SMILE Cultural Programme). Looking at his quickness and smartness SMILE adopted him from B.K.M. High School.
SMILE first changed his hearing aid which was 80% faulty, facilitated him with speech therapy for 3 years and helped him to take admission in Mazgaon Special School. Along with this continuous follow up, counseling with parents and motivation and reward for each success changes Rajesh completely within 8 years. He passed SSC examination with 67% marks. After schooling he did Computer Course for 3 years and other vocational courses which made Rajesh capable for job.
Today Rajesh is working in LIC as a supervisor. Now his only wish is to get a beautiful bride for him.