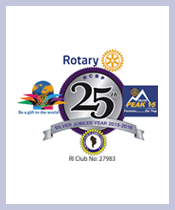 Rotary Club Of Bombay Peninsula
467/a Vora Bhuvan, King's Circle, Mumbai, Maharashtra, India, 400019
Founded Year: 1991
Cause category: Social, Civic & Community Development
Charity Bib Status:
Not Available
Raised by 0 contributors.


Donations for SCMM 2015 are closed. Thank you.
About NGO:
ROTARY CLUB OF BOMBAY PENINSULA follows principle of "Service through Fellowship". We follow the 4-way Test: Is it the "TRUTH", "FAIR", build "GOODWILL & BETTER FRIENDSHIP" and "BENEFICIAL TO ALL". We believe that TOGETHER WE CAN MAKE A DIFFERENCE. Our flagship project this year is to build "GLOUCOMA" ward at Municipal Eye Hospital, Do Taaki, Grant Road (E), Mumbai. Modernisation of equipments at this hospital is also under agenda. Our projects include construction of LOW COST HOUSING at Shilonda village, Vasai, CHECK DAM, CATARACT EYE CAMPS, ISKCON Mid-day Meals, support for underprivileged and physically challenged persons for whom we have refurbished barracks for VATSALYA at King George Hospital, BLOOD DONATION camps, THALASSEMIA awareness & detection camps, SKIN DONATION awareness camps, We have provided specialized equipments for better treatment of Cancer to Tata Memorial Hospital, Kharghar, Navi Mumbai. We propose service projects with "SALAAM BOMBAY FOUNDATION".
Fund Usage:
We need funds for building "GLOUCOMA" ward at Muncipal Eye Hospital, Do Taki, Grant Road (E). We also propose to modernize equipments for "OPEARATION THEATRE" at this hospital. We have planned a FUND RAISER by organizing MUSICAL nite with "Shaan" on 11th Jan 14 and invite you to join us to raise funds to fulfill our objectives. We also invite you to participate in our community service activities. We also propose to take up service projects jointly with "SALAAM BOMBAY FOUNDATION".
Impact:
King George Hospital at Senapati Bapat Marg (Tulsi Pipe Road) provided space to house AURED which worked for hearing impaired and provides on of the best facilities for aural instruction and VATSALYA foundation which provides support & training to destitute street children. We raised funds to refurbish their barracks and continue to support their activities. This has changed thousands of lives over the last 15 years.
Tata Memorial Hospital, Kharghar needed specializes equipments for treatment of Cancer (Leukemia) which would provide better diagonosis and specific treatment to reduce toxicity and better targeting of medicine. We provided these equipments which are already improving lives of several patients since last year.