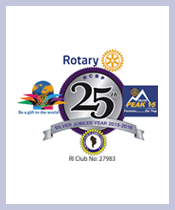 Rotary Club Of Bombay Peninsula
Ground Floor Kohiar House, 4 Dhuswadi, C.h.road, Dhobi Talao, Mumbai, Maharashtra, India, 400002
Founded Year: 1993
Cause category: Social, Civic & Community Development
Telephone: 022-65040987
Charity Bib Status:
15 Available
Raised by 0 contributors.

About NGO:
Rotary Club of Bombay Peninsula is working to touch and improve the lives of underprivileged by providing medical assistance, educational assistance, environment improvement, skill development training. Hallmark activities include medical equipments donated at Tata Memorial Hospital, Municipal Eye Hospital Grant Road & Wadia Childrens Hospital, Donation of sewing machines, water coolers, Educational Scholarships to meritorious among underprivileged, constructing check-dams, celebrating festivals with street children and underprivileged children, renovation of barracks at Vatsalya, support for celebral palsy children at SPJ Sadhana School.
Fund Usage:

Rotary Club of Bombay Peninsula appeals for donations to provide medical aid to under privileged, renovation &equipments to hospital, renovation of Worli crematorium to reduce wood consumption by 70% saving environment, equipments for blind children.
Impact:
King George Hospital at Senapati Bapat Marg (Tulsi Pipe Road) provided space to house AURED which worked for hearing impaired and provides on of the best facilities for aural instruction and VATSALYA foundation which provides support & training to destitute street children. We raised funds to refurbish their barracks and continue to support their activities. This has changed thousands of lives over the last 15 years.
Tata Memorial Hospital, Kharghar needed specializes equipments for treatment of Cancer (Leukemia) which would provide better diagonosis and specific treatment to reduce toxicity and better targeting of medicine. We provided these equipments which are already improving lives of several patients since last year.