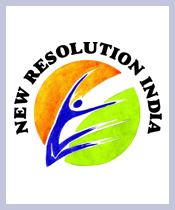 About NGO:
New Resolution India is non-profit organization and registered on 23rd Sept. 2009. It works in the field of education with the goal of connecting Education to Employment, 80% of Indian youth are school drop outs. The main reason being that most kids don't get the right opportunities and are confused about what career to choose. We provide students with inputs and psychological support to not only develop their life skills but also match these skills with a suitable career in a job they are interested in. Ours is a young organization and we are proud to say that in the past 2 years we are connected to 940 youth in 6 schools and their slum communities, to guide them choose a suitable career while shaping them to be responsible citizens. Our only motive is to empower as many under privileged students as we can so that they can be independent and earn an income doing what they love.
The "Bright Future" program provides school students and community youth with mentors (role model) who are professionals in the field which a student is aiming to make a career in. To gain a stronger support we also work closely with parents and teachers to ensure a conducive encouraging environment in homes and school.
We will appreciate if you can adopt a school or sponsor children. Your valuable contribution will truly ensure they have a Bright Future!
Fund Usage:

We would not only like to sustain our work, but also expand our program to an additional 10 schools and 1200 students through the Bright Future program. Our expense per school (per child Rs. 1200) and for a batch of 15 community youth is Rs 1.2 lakh (per Child Rs. 8000).
Impact:
"I want to educate myself and be a collector. I want to prove my father that even girls can educate themselves and progress in life" Spoke a sad but determined Diksha.
Diksha is a village girl who studied till HSC in her maternal village, Wai. In Wai she stayed with her maternal uncle who supported her education. Her uncle is survived by his wife and two children. Diksha did her schooling from Dravidian High School (Marathi Medium) and college from Bhimrao Shinde Junior College, Wai. She has secured 65 % in her HSC examination. After completing her junior college she came to Mumbai to live with her family which comprised of her parents and two younger brothers. She aspired to be a collector. "I want to be a collector because I want to bring about a change in the society" an excited Diksha when she first came in Bright Future Community Program, to enhance her life skills, English and Computer proficiency. However her dreams were shattered when her parents said a strict no for her further education as her father does not feel the need to educate her further.
Her father is a lone earning member. He works in a private bank as a peon and is a drunkard. Her mother is a housewife and her brothers studying. Diksha was told that it is important for her brothers to be educated. Secondly the admission fee in the college was enormous. Hence her mother too asked her to drop the idea of educating herself further. Diksha started feeling dejected and was ready to sacrifice her career for her brothers. She vented out her displeasure to the class facilitator in front of the class. The staff and classmates together tried to motivate Diksha to pursue her education. She finally decided that she would study further and Bright Future's student Pooja volunteered to help her in the admission process in a good college.
Higher and proper education not only helps build confidence but also helps a girl to realize her dreams, aspirations, duties towards the nation and a right to put down her views and opinions. It helps to realize the true potential and individuality of a person.
We at Bright Future dream to build such an environment which would help every girl child to live her dream and see it come true….
Page Url :
http://www.unitedwaymumbai.org/ngo152_new_resolution_india.htm
Founded Year:
2009
Cause category: Education