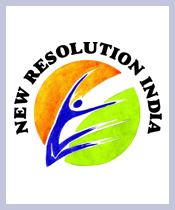 New Resolution India
85/b,first Floor ,kamgar Nagar,opposite Vishal Tower No 1, Kurla East, Mumbai, Maharashtra, India, 400024
Founded Year: 2009
Cause category: Education
Telephone: 022-25274628
Charity Bib Status:
10 Available
Raised by 0 contributors.

About NGO:
Area of intervention:
The School Program that consists of 65 hour's training for young adolescents age 13-16years old who are currently in the 9th and 10th standard, works on building the capacity of the students in the areas of both Life Skills as well as Career guidance where through Life skill sessions they are taught goal setting and time management and in the area of Career guidance they are made aware of the different kinds of careers that they could possibly pursue.Besides capacity building of students,we work on capacity of the School Management Committee as well as educating the Teachers and Parents for effective and sustainable result.
The Community Program consists of 180 hour's training over a period of 3 months for youth age 16 – 25. Through this program the students are taught various skills such as Life Skills, English Skills, Computer Skills and Career mapping that will help them achieve gainful employment with the hope that they will eventually be able to support their own education and families.Besides the capacity building of the students, we also have community engagement activities and session to educate their parents with regards to the program with the same goal of effective and sustainable results.
Fund Usage:

Right to education gives children access to literacy. The motivation and tools to explore and pursue a fulfilling career is something that a child at the lower rungs of the financial ladder has no access to. Raising awareness of the various careers aligned to a child's area of interest and support from professionals in that field are the first steps to helping the child explore and define his/her personal goals. Another major part of this process is raising the employability of the child, providing a platform that puts the child at par with the majority of youth looking for employment.Donor support can be sponsorship for Community Program,School Program ,Mentorship Program.
For School Program- Cost per School,per student(Career Session,Lifeskill session,mentoring session,Parents and teachers workshop)
For Community Program-Cost per Batch,per head training (Center Administration,for training,Program operating expense,salaries)
Impact:
"I want to educate myself and be a collector. I want to prove my father that even girls can educate themselves and progress in life" Spoke a sad but determined Diksha.
Diksha is a village girl who studied till HSC in her maternal village, Wai. In Wai she stayed with her maternal uncle who supported her education. Her uncle is survived by his wife and two children. Diksha did her schooling from Dravidian High School (Marathi Medium) and college from Bhimrao Shinde Junior College, Wai. She has secured 65 % in her HSC examination. After completing her junior college she came to Mumbai to live with her family which comprised of her parents and two younger brothers. She aspired to be a collector. "I want to be a collector because I want to bring about a change in the society" an excited Diksha when she first came in Bright Future Community Program, to enhance her life skills, English and Computer proficiency. However her dreams were shattered when her parents said a strict no for her further education as her father does not feel the need to educate her further.
Her father is a lone earning member. He works in a private bank as a peon and is a drunkard. Her mother is a housewife and her brothers studying. Diksha was told that it is important for her brothers to be educated. Secondly the admission fee in the college was enormous. Hence her mother too asked her to drop the idea of educating herself further. Diksha started feeling dejected and was ready to sacrifice her career for her brothers. She vented out her displeasure to the class facilitator in front of the class. The staff and classmates together tried to motivate Diksha to pursue her education. She finally decided that she would study further and Bright Future's student Pooja volunteered to help her in the admission process in a good college.
Higher and proper education not only helps build confidence but also helps a girl to realize her dreams, aspirations, duties towards the nation and a right to put down her views and opinions. It helps to realize the true potential and individuality of a person.
We at Bright Future dream to build such an environment which would help every girl child to live her dream and see it come true….