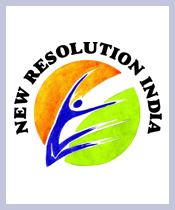 New Resolution India
41,municipal Tenements, 7/72, Dr. E Mozes Road, Worli Naka, Mumbai, Maharashtra, India, 400018
Email: newresolutionindia@gmail.com, info@newresolutionindia.org
Website: www.newresolutionindia.org

Charity Bib Status: Sold out

About NGO:
New Resolution India founded in Mumbai in 2009 is a voluntary, secular trust registered under the Bombay Public Trust Act 1950. Engaged in providing positive educational environment, positive role model and skill development among students between the age group of 6 years to 25 years. All our activities aim to minimize aimless education and unemployment; a problem widely spread among students, through our unique model, Bright future and Astitva. Our model mainly focuses on
1. Students Awareness and counseling
2. Parents Support Group
3. School Faculty enrichment
4. Skill development
5. Right Mentorship
Fund Usage:

a) Sports initiative is for children between 6 to 14 years of age, provides specialized training in strength building necessary for athletic and other sports. The training is provided by professional trainers linked with the organization. After a year's training the students are sent for various competitive sports to further excel in their endeavours.
b) Bright Future program, meant for students of std. 9th and 10th, provides
i. Unbiased and right educational information to students about subject oriented career paths, entrance exams and formalities on timely basis so that students do not miss the opportunities due to lack of knowledge and explore the career of their choice.
ii. Parent's workshop and counseling related to career issue.
iii. Documentation of the career path chosen by student and connect with mentor from same field.
iv. Teacher work shop for innovative ways of learning so interaction between teachers and experts happens to improve interest of students in focused way.
c) Astitva, Get what you deserve program is meant for youth between 16 to 25 years of age. The program Activities include workshops on life-skills, training in English speaking and IT skills, Exposure visits to places like Police station, Old-age home, BMC Ward office, Bank; Completing processes like Preparation of Passport, PAN Card, Opening Bank Account, Domicile Certificate; Events like Parents workshops, Various competitions, Rallies, Street-plays, Entrepreneur Development, etc. Till date 40 students underwent the program, of which 12 have been provided placement in various fields, Several mentors from fields like Engineering, Retail and Hospitality, Chartered Accountancy, etc. have volunteered to help and guide students in various ways.
Impact:
Swapnil Sawant our aspirant from Astitva batch is the youngest child in his family. He is living with his mother who is deaf and dumb and with his two sisters. Swapnil's father died when he was just one year old. Thereafter the responsibility of the whole family came on to his mother's shoulders who works as a sweeper in a Parsi trust at Colaba. Swapnil's elder sister quit her schooling in the 9th std to support her mother with her work. Likewise his other two sisters also quit school in the 6th and 7th std respectively.
However the family wanted Swapnil to be educated and assisted him in all possible ways to take his education seriously. When Swapnil joined New Resolution India he was not sure about his career as he had never thought about it. Also he was quite unsure about his SSC results. He just wanted to pass so that he could get a job to support his family. To support his education he would wake up at 5.30 in the morning to wash cars of people in the vicinity. He would also do odd jobs in the Parsi trust for which he would get paid. It could be anything right from running sundry errands for some to mopping someone's floor.
He was very happy when he passed his SSC examination with a decent second class and was also proud that he could score more marks than his counterpart who had all the facilities. At Astitva he was introduced to English, Computers, Life skills training and career guidance. He said that he has become focused and would not educate himself just for the sake of it. He has planned his career pathway. Though it would not be possible to finish his graduation, he will complete his HSC and then go in for an ITI course. After which he would happily support his family. His ideal is his Mom who against all odds tried to give her best to all her children and he would look forward to keep her happy all her life.
Page Url :
http://www.unitedwaymumbai.org/ngo152_new_resolution_india.htm
Online donations are now closed for SCMM'13'
Founded Year:
2009
Cause category: Education
You can raise funds by placing this donation widget on your web page or blog. Please click on the image.