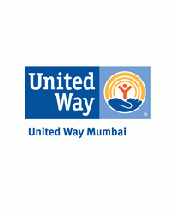 United Way Mumbai Helpline
309, Nirman Kendra, Famous Studio Lane, Dr E. Moses Road, Mahalaxmi Estate, Mumbai 400011, Mumbai, Maharashtra, India, 400013
Email: anil@unitedwaymumbai.org
Website: www.mumbaihelpline.org

Charity Bib Status: Not available

Online Donations raised so far: Rs.97132/-
About NGO:
United Way Mumbai Helpline (UWMH) is a special initiative of United Way of Mumbai which aims at improving the state of environmental issues, community health as well as the state of disaster preparedness of the city of Mumbai. For this, over the last seven years, we have been carrying out various city wide campaigns and programs through public private partnership for environmental issues, disaster preparedness and community health at the ward level. UWMH is the official third party auditor of Clean-Up Mumbai campaign of Municipal Corporation of Greater Mumbai.



Fund Usage:
The proceeds generated will be further utilized for the high impact initiatives of United Way Mumbai Helpline on environment, disaster preparedness and community health.
Impact:

Saleem Khan (identity changed for confidentiality), 32 years old, is a street dweller in Mumbai who worked as a rag picker. Till a year ago, Saleem was a drug addict. In September 2011, Saleem was sero-positive and was detected with Hepatitis C during the detection camp held by United Way Mumbai Helpline (UWMH) in collaboration with Sankalp Foundation. He showed good response to the treatment for de-addiction treatment and rehabilitation, and was soon offered a job as a watchman in Sankalp Foundation's office. UWMH's project team helped Saleem complete his vaccination for prevention of hepatitis B and he has also joined the Patient Support Group initiated by United Way Mumbai Helpline in partnership with Sankalp Foundation since May 2012. While participating in the Patient Support Group meetings, Saleem reported pain in the abdomen. Recognizing the need for further investigations and support, UWMH referred Saleem to a local trust providing financial aid for health care services. With financial support from this trust, Saleem is now undergoing advanced tests at a city hospital, and will be provided with financial aid for treatment. The UWMH project team is constantly in touch with the trust and Saleem for ensuring follow up. Thus, the timely interventions by UWMH have helped stabilize Saleem's life and any deterioration due to further medical complications Saleem.
Page Url :
http://www.unitedwaymumbai.org/ngo146_uwm.htm
Founded Year:
2002
Cause category: Social, Civic & Community Development
Our Supporters