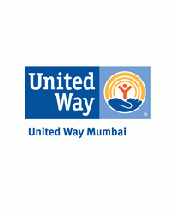 United Way Mumbai
United Way Of Mumbai, 309, Nirman Kendra, Famous Studio Lane, Dr E. Moses Road, Mahalaxmi Estate, Mumbai, Maharashtra, India, 400013
Founded Year: 2002
Cause category: Social, Civic & Community Development
Telephone: 24937676/86
Charity Bib Status:
Not Available
Raised by 4 contributors.


Donations for SCMM 2015 are closed. Thank you.
About NGO:
United Way Mumbai Helpline began as a special initiative by United Way of Mumbai in response to the floods witnessed by the city on 26th July 2005. Since then it has continued to be an on ground program making consistent efforts for better disaster preparedness and improvement in the state of civic issues in the city of Mumbai.
Unlike the name suggests, United Way Mumbai Helpline is not a telephonic helpline, but is a forum for facilitating active and effective network of key stakeholders working towards the common goal of making Mumbai a cleaner, safer and better place to live in. It provides a platform for all government and non-government players, students, citizens and corporates to come together and give their best to address the civic environmental issues and disaster situations the city is gravely and frequently faced with.
Fundraisers supporting this NGO:


Fund Usage:

The funds raised through SCMM, will be utilized towards implementation of various community impact initiatives aimed at improving the state of environmental issues, state of community health and the state of community based disaster management in the city of Mumbai.
Impact:
Community Impact Initiative:
UWM has reached out to more than 25 lakh citizens of Mumbai with support from 48 corporations, 5000+ corporate employee volunteers, over 20,000 student volunteers and several local government authorities & communities.