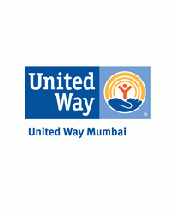 United Way Mumbai
United Way Of Mumbai, 309, Nirman Kendra, Famous Studio Lane, Dr E. Moses Road, Mahalaxmi Estate, Mumbai, Maharashtra, India, 400013
Founded Year: 2002
Cause category: Social, Civic & Community Development
Charity Bib Status:
Not available
Raised by 2 contributors.

About NGO:
United Way Mumbai Helpline began as a special initiative by United Way of Mumbai in response to the floods witnessed by the city on 26th July 2005. Since then it has continued to be an on ground program making consistent efforts for better disaster preparedness and improvement in the state of civic issues in the city of Mumbai.
Unlike the name suggests, United Way Mumbai Helpline is not a telephonic helpline, but is a forum for facilitating active and effective network of key stakeholders working towards the common goal of making Mumbai a cleaner, safer and better place to live in. It provides a platform for all government and non-government players, students, citizens and corporates to come together and give their best to address the civic environmental issues and disaster situations the city is gravely and frequently faced with.
Fundraisers supporting this NGO:


Fund Usage:

Community Impact Initiatives of United Way of Mumbai (UWM). This initiative is aimed at betterment of environment, disaster preparedness and community health in city of Mumbai. Some of our recent initiatives include citywide campaign for environment friendly Ganesh festival, greening of Mumbai by planting 500 trees at Maharashtra Nature Park, projects for medical interventions and awareness generation on chronic diseases such as Hepatitis and Diabetes
Impact:
Saleem Khan (identity changed for confidentiality), 32 years old, is a street dweller in Mumbai who worked as a rag picker. Till a year ago, Saleem was a drug addict. In September 2011, Saleem was sero-positive and was detected with Hepatitis C during the detection camp held by United Way Mumbai Helpline (UWMH) in collaboration with Sankalp Foundation. He showed good response to the treatment for de-addiction treatment and rehabilitation, and was soon offered a job as a watchman in Sankalp Foundation's office. UWMH's project team helped Saleem complete his vaccination for prevention of hepatitis B and he has also joined the Patient Support Group initiated by United Way Mumbai Helpline in partnership with Sankalp Foundation since May 2012. While participating in the Patient Support Group meetings, Saleem reported pain in the abdomen. Recognizing the need for further investigations and support, UWMH referred Saleem to a local trust providing financial aid for health care services. With financial support from this trust, Saleem is now undergoing advanced tests at a city hospital, and will be provided with financial aid for treatment. The UWMH project team is constantly in touch with the trust and Saleem for ensuring follow up. Thus, the timely interventions by UWMH have helped stabilize Saleem's life and any deterioration due to further medical complications Saleem.