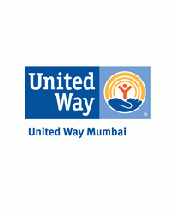 United Way Mumbai
United Way Of Mumbai, 309, Nirman Kendra, Famous Studio Lane, Dr E. Moses Road, Mahalaxmi Estate, Mumbai, Maharashtra, India, 400011
Founded Year: 2002
Cause category:
Telephone: 022-24937676
Charity Bib Status:
10 Available
Raised by 5 contributors.

About NGO:
United Way of Mumbai works closely with a network of 400+ NGOs and a large number of corporates for their CSR programs, workplace giving campaigns and other events. This includes designing of CSR policy and strategies, due diligence of NGO partners, program implementation, employee volunteering, impact assessments and financial and programmatic reporting.
Our flagship programs have focused on civic issues, health, disaster preparedness and greening. In addition, we have designed, facilitated and monitored large scale programs in education, sanitation community development in rural and urban areas. Each of these programs has been designed to involve multiple stakeholders, create community participation and have long term impact.
Fundraisers supporting this NGO:


Fund Usage:

Funds raised through SCMM 2016 will support two key projects-
Mission Mangroves -
Mangroves are crucial to Mumbai. As a city built on reclaimed land, with a vast coastline and heavy rainfall, Mumbai is prone to erosion. Mangroves trap silt and act as a buffer between the land and the sea. They are home to a wide variety of birds and aquatic life, filter waste water and absorb pollutants in the air.
Unfortunately, mangroves are being destroyed at an alarming rate. Recognizing the pressing need for their preservation, UWM has pledged to plant 1,00,001 mangroves. Each of these mangroves will be monitored for a period of one year to ensure survival. Any contribution towards this initiative will go a long way in building a greener, cleaner and more sustainable city.
Reconstructing schools in J&K-
United Way has extended immediate, mid-term and long-term relief and rehabilitation during 11 major national disasters. Currently, we are working with communities affected by the floods in Jammu & Kashmir. There is an urgent need to reconstruct schools in this region. Your support will help us build classrooms and toilets, provide furniture and teaching aids to enable children to go back to school and rebuild their lives.

Impact:
Over the past 13 years, we have partnered with over 300 companies and over 1,00,000 individual donors investing close to INR 170 crore for community development projects.