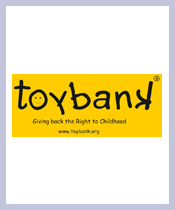 Toybank
Prasad,147/a,gokhale Road North, Dadar West,, Mumbai, Maharashtra, India, 400028
Founded Year: 2009
Cause category: Children
Telephone: 022 - 24388235
Charity Bib Status:
Not Available
About NGO:
Toybank believes that qualities like passion, enthusiasm, and goodness are qualities which are planted at the root level. Once these qualities are in place, no matter what line of life these kids take up, they will always be confident, and sucessful in whatever they do. At Toybank we try to get kids to come out of their sheilds, and fill them with enthusiasm, confidence and passion
Fundraisers supporting this NGO:


Fund Usage:

We intend to spend the Marathon funds mostly on establishing new Toy Libraries and Play centres in urban and rural areas. However, a part of the funds would also be used to meet our regular running cost of operations of travel expenses incurred for Collection, Wrapping and Distributing toys as well as other Administration costs.
Impact:
We hope to raise funds from Maathn so to do the following
Open 2 rural impact centers covering 1500-2000kids
To sustain our current centers which covers a total of 9000 kids in rural and urban maharashtra