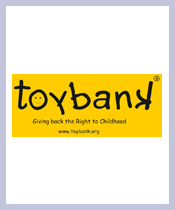 Toybank
Indira Building, Apt 2, Ground Floor, Opp. Shivaji Park Gymkhana, Keluskar Road North, Shivaji Park, Dadar West,, Mumbai, Maharashtra, India, 400028
Email: shweta@toybank.org
Website: www.toybank.org
Visit on Facebook: pages/Toybank/168595402566
Charity Bib Status: Not available

About NGO:
Toybank envisions a world where all children have a happy and healthy Childhood. Toybank essentially believes that children from all backgrounds have an inherent Right to Play and a Right to live a joyous childhood.

Toybank Interventions:

Sensitization Workshops: We hold these workshops in various elite schools, colleges, corporate offices, housing Societies etc. so as to spread awareness about the Right to Play for children and other issues of children.
Collection-Sorting-Toy Wrapping - Distribution sessions: Toybank volunteers help us collect toys from their housing societies, corporate offices, clubs, etc. and help us sort these toys according to age and category and gift-wrap them for distribution to children. During such Distribution drives we also conduct fun activities in such centres while gifting the toys to the children.
Setting up Toy Libraries/Play Centers: Toybank has started establishing Toy Libraries and Play centres, where many children stand to benefit by getting to play with toys which otherwise would not have been within their reach.
Impact Assessments & Case Studies: Toybank also conducts regular impact assessments and case studies to analyse the impact of these toys on the development of the Children.
Fund Usage:

We intend to spend the Marathon funds mostly on establishing new Toy Libraries and Play centres in urban and rural areas. However, a part of the funds would also be used to meet our regular running cost of operations of travel expenses incurred for Collection, Wrapping and Distributing toys as well as other Administration costs.
Impact:
Toybank is on an exciting growth path as an organisation. Its impact has doubled from last year.
The demand for its intervention in partnering NGOs and Government schools has risen hugely.
In the last 3 years, Toybank has reached out to:
- 14232 Urban Children
- 3200 Rural Children
- 404 Volunteers

which has had the following impact:
Govt. School attendance increased: has gone up by 45%. Children missing school on Saturdays have started attending the school because of the weekly Toybank's sessions in the school. (based on feedback from Principal of Bhimanagar Govt. School, Borivili, Bombay)
Effect on the marks- grades gone up: 50% increase in the number of children who performed well in English in their scholarship exam. The games that help the most were: Opposites, Similar word, Word builder, Sentence maker. (based on feedback from Principal of Bhimanagar Govt. School, Borivili, Bombay)
There is an evident improvement in Team building and peer interaction, Over coming conflicts and gain in self-confidence
Page Url :
http://www.unitedwaymumbai.org/ngo145_the_opentree_foundation.htm
Founded Year:
2009
Cause category: Women, Children & Aged
Our Supporters