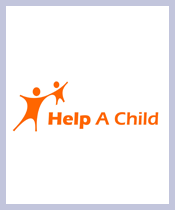 Somaiya Vidyavihar Trust
Somaiya Vidyavihar Trust,somaiya Bhavan ,45/47 M.g. Road, Fort, Mumbai, Maharashtra, India, 400001
Email: helpachildtostudy@gmail.com
Website: http://www.helpachild.org.in

Charity Bib Status: Sold out

About NGO:
Help A Child's vision is that of an India where every child is able to achieve their dreams of higher education regardless of their social background or financial status.
Help A Child sponsors the college fees of meritorious students from underprivileged backgrounds to ensure that they can complete their education through their own talents and help themselves and their families to escape the cycle of poverty.
We also strive to encourage a culture of learning and aspiration for higher education among children from underprivileged backgrounds and their families, with a special focus on girls.
Fund Usage:

The money raised will go directly towards the higher education of underprivileged students, supporting them to make a better future for themselves. These students come from diverse backgrounds, from slums and villages; their parents may be labourers, weavers or farmers. Some students are orphans or belong to single parent families, many work part time to help their families survive. We aim to reach out to those students who need our help the most, to ensure that they do not have to give up their education simply because of a lack of funds. We believe that education is the best way to end the cycle of poverty, ensuring a better future for our beneficiaries.
Impact:
Shweta Bantanal has been supported by the project for 6 years. Shweta is from the small town of Mudhol in Bagalkot District, Karnataka. When she was in the 7th grade her father died and herself, her mother and her sister shifted to a house provided by her uncle who is a small-scale farmer. Shweta's uncle supported them financially but as he had a very low income and had to support his own family, he was unable to provide much support for Shweta's studies. Shweta was recommended by her teacher to Somaiya Vidyavihar's Help A Child to Study Project after the 10th grade. Help A Child to Study sponsored Shweta's education for 6 years, first for the 11th and 12th grades and then for a Bachelor of Engineering degree in Electronics and Communications stream.
If Shweta had not received financial support for her studies she would most likely have had to drop out after the 12th grade and marry early due to her family circumstances. Shweta is now employed with Larsen & Toubro Integrated Engineering Services, Mysore. Now she is able to provide for her family as well as financially supporting her younger sister's education.
We've supported 1400 student like Shweta since our initiation in 2001.
Page Url :
http://www.unitedwaymumbai.org/ngo143_somaiya_vidyavihar_trust.htm
Online donations are now closed for SCMM'13'
Founded Year:
1959
Cause category: Education
Our Supporters
You can raise funds by placing this donation widget on your web page or blog. Please click on the image.