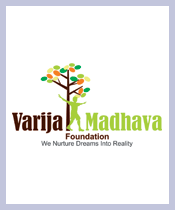 Varija Madhava Foundation
Trinity House, Plot No. 5/b, Qureshi Nagar, Kurla (e), Mumbai, Maharashtra, India, 400070
Founded Year: 2010
Cause category: Education
Charity Bib Status:
Sold Out
Raised by 0 contributors.


Donations for SCMM 2015 are closed. Thank you.
About NGO:
Varija Madhava Foundation is actively involved in providing:
Educational Support to BMC Schools: The Foundation provides teachers in the BMC Schools on a yearly basis.
Vocational Activities for BMC students: The Foundation conducts various vocational activities like. English Speaking & Personality Development, Tailoring & Mehendi Course, Health & Wellness Camp etc.
Professional Development of Teachers: The Foundation conducts regular Teacher Training Programs to update them on latest teaching methodologies
The Foundation undertakes infrastructure development of private schools which are not having enough resources of their own and are looking for donors.
Introduction of E-Learning Programs in BMC Schools and private schools
The Foundation provides financial support to private schools in various forms viz. sponsorship of education of the needy students, providing books etc.
Setting up and maintaining library and computer labs in schools
Support various social causes through charity
Fund Usage:

The donation would be spent in providing better facilities to the schools viz. Infrastructure development of schools, setting up libraries, computer labs etc. Providing education and health services to the under-privileged children. To provide skill based programs for these children. To create employment for the un-employed.
Impact:
As our pilot program we had taken a BMC school at Chunabhatti. The Foundation renovated the 2 classrooms allotted to us. In these rooms we started conducting various courses viz.
(1) English Speaking & Personality Development Course - The first challenge for the Foundation was when we introduced the English Speaking Course. We realized that students of 6th and 7th standard did not know the basics of English grammar. Here started our journey in educating these children with books from Std. I. Today we are proud that more than 200 students have been trained not only in English Language but also in Personality Development viz. Etiquette, Educational Films on CD and Internet, Current Affairs etc.
(2) Tailoring Course - The Foundation is currently conducting the 6 months Tailoring Course at Chunabhatti. The course is open not only for BMC school kids but also housewives and school drop-outs. Till date more than 100 students have been trained in this Course. The Foundation not only conducts the course but also provides the sewing machines along with the required raw materials including cloth for cutting and practice.
(3) Mehendi Couse - We are currently running the 3 months Mehendi Course. The course is very popular among the school kids. Till date the Foundation has trained more than 150 children in the Mehendi Course.
(4) Health and Wellness Camp - The Foundation organized a 5 day Health & Wellness Camp for more than 300 students as well as staff members of the BMC School. The camp focused on teaching yoga as well as educated them on the benefits of good health to achieve academic success.
Today, we can say with pride that we have created a difference in the lives of the students studying in this school by not only providing better infrastructure but also exposure to so many courses/activities which was outside their purview.