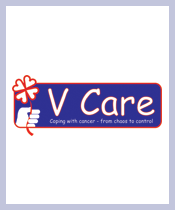 V care Foundation
A 102, Om Residency, J W Rd, Near Tata Memorial Hospital, Opp Bhoiwada Court, Parel East, Mumbai, Maharashtra, India, 400012
Founded Year: 1994
Cause category: Health
Telephone: 022-24141856
Charity Bib Status:
15 Available
Raised by 0 contributors.

About NGO:
V Care Is A Voluntary Support Group Dedicated To Providing Free Help, Hope, Awareness And Education To Cancer Patients And Their Families Through Outreach Programs And Services That Improve The Quality Of Their Lives. Volunteers Are Mostly Cancer Survivors Or Experienced In Taking Care Of Cancer Patients. Or, They Are Passionate To Serve A Cause. V Care Nourishes Cancer Patient'S Mind And Spirits. V Care Foundation Works Continuously And Meaningfully With All Its Stakeholders, Patients, Doctors, Nurses, Patients' Family Members, Its Volunteers, Donors And International Organizations.
Span Of Activities: Useful & Reliable Information, Creating Awareness, Patient & Family Support, Financial Assistance, Support To Children.
Fund Usage:

FUNDS COLLECTED WILL BE UTILIZED FOR THE BELOW MENTIONED PROJECTS:
FINANCE FOR MEDICINE/SURGERY:
Letters of support are given by the hospital for financial aid for further treatment. Monetary aid is provided by V Care weekly, depending upon the patient's requirement and can vary anywhere from Rs.2,500 to Rs.10,000 per person. About 20-25 patients are helped every week.
Special Finance:
Another form of financial assistance is provided in the form of Special Finance - an immediate amount of up to Rs.10,000 given to each patient for treatment. The patient is referred to V Care by their treating doctor primarily from Tata Memorial Hospital and other hospitals, depending on a good prognosis and financial eligibility.
RETINOBLASTOMA: is a malignant tumour of the retina and is the most common intraocular malignancy in children. Tata Memorial Hospital witnesses close to 50 cases of this annually and of these, nearly 15 patients undergo surgery (Enucleation) for removal of the eye. V Care supports this program for all patients. Around 50 patients are helped with Rs. 5000.
Impact:
Infection Kit is given to the young patients who are suffering from cancer and are undergoing treatment at Tata Memorial Hospital. It is provided as a start up kit to patients, the parents and caretakers are explained how to use the kit. We take the patient' name, age, place, they stay, what the father does, and which cancer. The kit is given to No Charge and admitted patients only.
The Infection kit has: Bath Tube, Betadine/Wokadine Solution, Hexadine Mouth Wash, Torch, Digital Thermometer, Balloon Bladder, Spirometer, Vaporiser, Nail Clipper, Cotton Face Masks, Dettol Soap, Shampoo, Hand Sanitizer, and V Care bag.
This kit is given to children patient as the chances of getting infection are high and good hygiene is important to help prevent infection. Infection hampers their treatment also it increases the financial burden on the family. Giving these kits the rate of infection can be controlled and the importance explained to the parents.
Also the parents and caretakers are asked to be in touch with us or our volunteers on regular basis.
Total kits given from April 2011 to March 2012 are 154, Per kit costs around Rs. 1668/-.