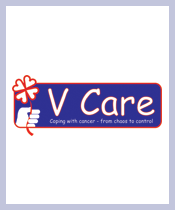 V care Foundation
A 102, Om Residency, J W Rd, Near Tata Memorial Hospital, Opp Bhoiwada Court, Parel East, Mumbai, Maharashtra, India, 400012
Founded Year: 1994
Cause category: Health
Telephone: 022-24141856
Charity Bib Status:
Not Available
Raised by 41 contributors.


Donations for SCMM 2015 are closed. Thank you.
About NGO:
V Care Foundation, a Registered Charitable Trust, was founded by Vandana Gupta, in Mumbai in 1994. The organization is dedicated to providing free-of-charge services to cancer patients and their families to help them cope with the disease. All volunteers work in purely an honorary capacity, with no compensation being paid to them.
V Care provides need-based financial assistance, food grains, milk, clothes, protein supplements, wigs, breast prosthesis. V Care provides services to meet the informational, physical, emotional, and practical needs of patients. It is our objective to spread the message of survivorship and quality of life after cancer.
Through seminars, workshops and discussions, V Care strives to spread awareness about Cancer focusing on prevention and early detection, and removal of all myths associated with cancer. Our telephone helplines keep us accessible 24x7. A Toy library is run by us at Tata Memorial Hospital and at Hamari Pathshala.
The two landmark celebrations of V Care every year are:
Share A Celebration: during Diwali, when we bring festivities to the bedside of every cancer patient admitted into the hospital.
Cancer Survivors' Day: In February, we pay rich tribute to the spirit of survivorship. Three exceptional people who have shown grit and courage in their battle against cancer are awarded trophies & are called.
Fundraisers supporting this NGO:


Fund Usage:

We raise funds for our following projects:
a. Distributing nutritious food (grains & milk) high nutritional supplements and utility articles to patient at both ACTREC and Sant Gadge Maharaj Dharamshala.
b. Distributing Hygiene and Infection Control Kits to young patients at Tata Memorial Hospital, in an endeavor to control infection during treatment. Providing Financial assistance to needy patients in addition to providing prosthesis, wigs, and Rainbow Caps to children undergoing chemotherapy.
c. Financing a prosthetic eye to young Retinoblastoma patients, to replace their surgically removed affected eye. This gives confidence to the patient as facial appearance is restored.
d. Distributing Umbrellas during Monsoons every year to all patients, to facilitate coming to hospital for treatment. e. Transportation Services: There are 2 vans donated to V Care these are used to ferry patients to and fro between Gadge Maharaj Dharamshala and Tata Memorial Hospital. The van makes 8 trips a day, which utilizes 8000 patients per year.
Impact:
Infection Kit is given to the young patients who are suffering from cancer and are undergoing treatment at Tata Memorial Hospital. It is provided as a start up kit to patients, the parents and caretakers are explained how to use the kit. We take the patient' name, age, place, they stay, what the father does, and which cancer. The kit is given to No Charge and admitted patients only.
The Infection kit has: Bath Tube, Betadine/Wokadine Solution, Hexadine Mouth Wash, Torch, Digital Thermometer, Balloon Bladder, Spirometer, Vaporiser, Nail Clipper, Cotton Face Masks, Dettol Soap, Shampoo, Hand Sanitizer, and V Care bag.
This kit is given to children patient as the chances of getting infection are high and good hygiene is important to help prevent infection. Infection hampers their treatment also it increases the financial burden on the family. Giving these kits the rate of infection can be controlled and the importance explained to the parents.
Also the parents and caretakers are asked to be in touch with us or our volunteers on regular basis.
Total kits given from April 2011 to March 2012 are 154, Per kit costs around Rs. 1668/-.