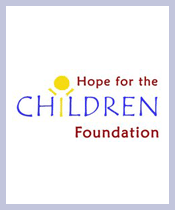 Hope for the Children Foundation
Faith Centre, Office 305, New Airport Road, Sakore Nagar Society,viman Nagar, Pune, Maharashtra, India, 411014
Founded Year: 2006
Cause category: Education
Charity Bib Status:
Not Available
Raised by 0 contributors.


Donations for SCMM 2015 are closed. Thank you.
About NGO:
Hope for the Children Foundation is a non-profit organization founded in may 2006, Pune, Maharashtra. The mission of the hope for the Children Foundation is dedicated to the well-being of orphans and underprivileged children in India. We advocate as a Catalyst between donors and NGO partners. We adopt orphanages and homes for street children who are at risk and are vulnerable. The projects and programs are developed and monitored to benefit orphans and underprivileged children. We provide basic necessities like food, clean water, and medical aid. We also empower children through basic education and self-reliance programs.
Our programs include Adopt-an orphanage, HIV infected and affected Children, Children Education Fund, Feeding Program and Humanitarian Aid. The Foundation is visibly engaged in making a difference in the quality of life of orphans and underprivileged children in India.
Fund Usage:

Introduction
Poverty is not restricted to any one section of the community or a group. It is a matter of concern for the whole country. Poverty and inequality in India are increasingly becoming polarized along regional lines. India accounts for 17% of the world's population and about 42% of the world's poor live in this country. The poor are deprived of all basics of a
Human life - food, clothes and shelter. When the family is in a state of financial crisis, children are often made to work as child laborers and earn money. The poor children suffer from starvation as they do not get sufficient food to eat in spite of the work they do.
The program
While providing support to orphanages, we felt that apart from the children, there are many single women in need. Some have been widowed, or have been abandoned by their husbands. Some don't get support from their spouses to feed the family, even if they have 2-4 children. They themselves don't even have a handful of grains to eat every day.
As these women basically work as domestics help and don't get to earn a reasonable amount of money, we provide them monthly food grains to ease their burden of earning and feeding alone. This ultimately ensures that their children have better and healthy lives. In the month of August 2010, HFCF started the "Food grains distribution for Single Mother" project for those women who are in dire need of food support.
The need
We started the project with two organization named HOPE and BSSK. We are now planning to increase the number of single mothers under the project and also the quantity food grains. We need your support to do this. Our expense for running this project is around Rs. 40,000/- per month. We need to operate at least for two-three years, till the time they can stand up on their own and support their families.
The project details:
Project name - 1. Monthly food grain support to Single Mother
Project commenced - August, 2010
Number of families supported - 100
Number of children supported- 175
Number of organizations - 2 - HOPE and BSSK
List and Amount of food grains
Wheat - 5 kg x19 = Rs 95
Rice - 5 kg x 20 = Rs 100
Toor daal -3 kg x68 = Rs 204
Total amount for per person = Rs 399
Total amount for project (100 families) = 100 x 399 = Rs 39,900 Approx.
We also intend to utilize these funds towards our monthly feeding programs along with our NGO Partners:
2. Feeding programme with our partner NGO, BVJSS- an orphanage and NGO dedicated towards providing residential schools for orphans, deaf & mute, mentally retarded; To provide free education with accommodation with help of donors and Government agencies like Social Welfare.
HFCF Projects/ Activities:
Nutrition support
Educational and Health support
Centre for Orphans, School for Deaf and Mute,
Number of children 490 *1
Per month meal - 14700
Total meal for the year 2010-2011 = 176400 meal
Total budget per month - Rs.30, 000/-
Budget
Wheat - 500 x20 = 10000
RICE - 400 x 20 = 8000
Tur daal - 75 x 65 =4875
Oil - 40 x 70 = 2800
Sugar - 35x30 = 1050
Matki - 50 x 58 = 2900
Ground nut - 20x68 -1360
3. Monthly Street Feeding Program
The third project that we would like to support with these funds is our Monthly Street Feeding Program. 'Grains of Love - Feed a street Children project' Through our 'Grains of Love - Feed A street Child' project we aim to feed one ......... children each year in India
Over 6 million children under five die of malnutrition and hunger-related diseases every year in developing countries. All over the world Hunger is still the no.1 cause of death and a third of the world's hungry live in India. Every minute, five Indian underprivileged children die of hunger which makes 7000 each day and 2.5 million children dying of hunger in India every year. The statistics are Alarming.
Every month Hope for the children foundation feeds over 3,000 needy children in the slums areas of Pune. Our entire street feeding project is carried along with volunteers.
There are hundreds of thousands of more children whom we are not able to help due to lack of financial resources.
For a few rupees a month you can sign up as a monthly donor and help save these children.
Your assistance in these programs is humbly requested. You can help make a difference in the lives of countless children. Even a small contribution, even just feeding one hungry child a day, can make a difference!
Your personal involvement and contribution in this project will enabled us serve these disadvantage and needy children
Total budget for 3000 packets - RS.30, 000/- estimated
Break up - Masala rice 3000 packet
Rice - 350x20 = Rs.7000/-
Moong daal - 200 x 60 = Rs.12000/-
Oil - 15 x 70 = Rs.1050/-
Miscellaneous - Rs.10000/-
(LPG Gas, Garma masala, Vegetables, transportation and labour)

Impact:
Full Name: Kalpana
Date of Birth: not known
Date of admitting to NGO: 04/11/2008
Personal history
On 04.11.2008, Kalpana was admitted to Mamta Foundation, one of the partner NGO's of Hope for the Children Foundation, by the 'Shrivastha' Sassoon Hospital and the court committee.
Kalpana is orphan child, carrying the HIV virus.
Kalpana's mother left her in the Pune Railway Station some years ago. This is where the police found her and admitted her in Shrivastha (Sofosh- Sassoon Hospital). When they found out she was HIV positive, another NGO admitted Kalpana to Mamta Foundation for further medication and rehabilitation. From the day she was admitted until now, no relatives have come to meet Kalpana.
She has no relatives and no middle & last name.
Social-emotional and mental development
After the admission in Mamta, she has become more sociable and interacts with the other children at the Foundation. From being a shy and non-communicative child she has bloomed into a beautiful sociable girl. She talks a lot now and can count from 1 till 100 very well. She sings poems loudly & clearly. She is in now in her K.G. & goes to school regularly. She also likes to eat the nutritious food provided by the Hope for the Children Foundation.
Her progress has been well observed and monitored by Hope for the Children Foundation. Due to her remarkable progress she has been adopted by our well-wisher Mr.Shrikant Patil from Kolhapur. He and his family have adopted Kalpana and have given her the family name.
Hope for the Children Foundation supports Mamta Foundation as a Partner NGO and supports them on a monthly basis. On completion of her 18th year Kalpana will stay with her foster family forever.