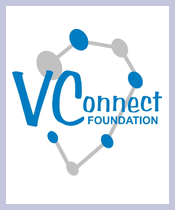 V Connect Foundation
R-7 Cusrow Baug, Shahid Bhagat Singh Road, Colaba, Mumbai, Maharashtra, India, 400001
Founded Year: 2007
Cause category: Disability
Telephone: +91-9820177421
Charity Bib Status:
Not Available
Raised by 0 contributors.


Donations for SCMM 2015 are closed. Thank you.
About NGO:
Vconnect Foundation Is A Support Group For Parents For Children With Hearing Impairment. We Support Families With Early Detection Of Hearing Impairment Through Our New Born Hearinging Screening Programme In Hospitals In Mumbai. Families Are Then Counseled, Guidanced And Helped With Fitting Of Hearing Aids And Cochlear Implants. Families Are Guided For Auditory Verbal Therapy I.E. Teaching The Children To Listen And Speak By Using Their Child'S Residual Hearing And Then Helped With Mainstreaming.
Fund Usage:

Vconnect Foundation Runs Various Projects Under One Umbrella -
The New Born Hearing Screening Programme
Funding Towards Hearing Aids & Cochlear Implants
Fitting The Hearing Aids & Programming The Cochlear Implants
Guidance And Counselling Of Families:

To Deal With Their Child'S Hearing Loss And Towards Their Holistic Development
For Auditory Verbal Therapy
Mainstreaming. Funds Raised By Donor Support Will Be Used To:

Upgrading Our New Born Hearing Testing Equipment Which Is Used To Screen New Born Infants In 4 Hospitals In Mumbai
To Help Poor Children With Digital Hearing Aids And Cohlear Implants.
Impact:
Being parents of children with hearing impairment, our dream was to start a New Born Hearing Screening Programme to screen babies for hearing impairment at birth, which we have achieved.
We are happy to state that our New Born Hearing Screening Programme has been running very successfully in 3 hospitals in Mumbai for over a year and to date we have been able to screen 1643 babies and our programme has become sustainable.