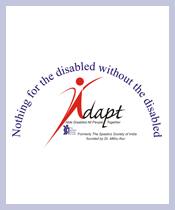 ADAPT ( FORMERLY THE SPASTICS SOCIETY OF INDIA)
K. C. Marg, Bandra Reclamation, Bandra (w), , Mumbai, Maharashtra, India, 400050
Founded Year: 1972
Cause category: Disability
Telephone: 91-22-26443666/88
Charity Bib Status:
Not Available
About NGO:
ADAPT (formerly The Spastics Society of India) is a Non-Government Organization (NGO) that was set up by Dr. Mithu Alur in 1972 a parent of a daughter Malini, (who was born with cerebral palsy) Trustee & Acting CEO, Chairperson of ADAPT Rights Group to address the lack of services and the lack of knowledge about multiple disabilities in general and cerebral palsy in particular. The main aim was to alert the nation to their needs and show how the government and community could help them to be included into existing services. The overall aim of the organization is to support India's social and economic policy reform within a human rights context. ADAPT believes that disabled people have equal rights and opportunities within an inclusive society.
The strategic goals (core objectives) of the organization include:
To increase the access of children to educational and healthcare opportunities irrespective of disability, gender and social disadvantage
To promote the exchange of information and ideas on sustainable inclusion policy and practice
To develop resources to support a sustainable model for the universalisation of primary education
To foster community attitudes, professional practices leading to legislation measures supportive of inclusive education and a social model of disability
To develop and implement placement and post-placement strategies for increasing employability of people with disabilities
To influence public opinion, policies and legislation concerned with the rights and needs of disabled youth.
Fundraisers supporting this NGO:


Fund Usage:

ADAPT being an NGO provides services to more than 3000 direct beneficiaries and 10,000 households in Mumbai and over 100,000 beneficiaries across India. The most vital component of service delivery is that inability to contribute on part of a beneficiary does not deprive him or her from receiving services. In this way, through a sliding scale ADAPT gets only 10% contribution from the beneficiaries towards its annual expenses. Hence, ADAPT has to raise funds continuously to sustain its services by involving various stakeholders in the community.
Impact:
Sensitization programs were conducted on International Day of the Disabled in 2011 at various sites in Mumbai. Three street plays promoting inclusive education were staged at public places; the Chatrapati Shivaji Terminus; Carter Road in Bandra and near the K Star Mall in Chembur.
Access audits were conducted at 5 public places in the rural area of rural Pelhar, a cluster of 22 villages in the Thane district and in Mumbai's A ward. An audit was also conducted at the Capgemini Company to encourage the corporate to employ people with disability.
Empowerment training programmes for people with disabilities their families and allies were conducted in Goa and Mumbai. These trainings were conducted by disabled people from different parts of country as part of the North South Dialogue, an international conference focusing on inclusion and inclusive education. The audience included teachers from mainstream schools, sensitizing them to the issues facing persons with disability. 21
Master Trainers from across the Asia Pacific were also trained in a separate workshop. Parents and adults with disability were oriented to their Rights during screening camps held by ADAPT. Participant feedback forms are the basis of our future planning.