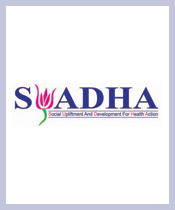 Social Upliftment and Development For Health Action
A-6, Daruwala Bldg.1st Floor, D.b.marg, Mumbai Central, Mumbai, Maharashtra, India, 400008
Founded Year: 2006
Cause category: Health
Charity Bib Status:
Not Available
About NGO:
"Social Upliftment And Development for Health Action" (SUADHA) is a non government organization working for the last five years towards health issues and social causes for the upliftment of the poor. We extent support towards medical, education, women empowerment, poor-relief and tribal welfare and development. We provide information and guidance to patients coming to Mumbai for treatment. We regularly conduct awareness programmes and health checkup camps on various health issues across India. These include Cancer, Diabetes, HIV-AIDS, Thyroid, Osteoporosis and women's health related problems.
We mobilize funds for cancer, heart and kidney patients, arrange free wheel chair, artificial prosthesis to needy patients, adopt tribal schools and provide the students with healthcare, educational aid and recreational programmes. We also organize Career guidance programs for drop-out students and arrange scholarship for meritorious rural students. We create income generated programmes for rural women and rehabilitation opportunities for patients and their caregivers.
Fund Usage:

To sponsor food for patients of Bai Rukminibai Hospital, Kalyan. Tea to be served twice and meal once for 150 patients (Per day expense : Tea Rs. 5x2=Rs. 10 and meal Rs. 35/-) This amounts to Rs. 6750 per day. So the total monthly expense would be Rs. 202500/-. Seeing that there was no food facility for patients at Bai Rukminiibai Hospital, Kalyan, we had introduced it on trial basis and seeing the tremendous appreciation among the patients, would like to continue it throughout the year.
India is badly affected by osteoporosis. We conduct early detection osteoporosis screening camps all over India. Studies say that there are millions of people, mostly women, suffering from Osteoporosis because of low bone density. To reach out more people affected by this disease, we require a Bone Mineral Densitometry (BMD) Machine. The estimated cost of the machine is Rs.6,00,000/- plus tax (cheapest quotations) from Pal Tech, a Japanese manufacturer.
To sponsor 150 sets of desks + benches for tribal village school. One desk can be used by three children. The manufacturing cost per desk is Rs.2500/-
Impact:
TOY ROOM IN VILLAGE SCHOOL
Educational toys in village schools is an unique child psychology idea derived from sophisticated metro city schools. In our tribal welfare project for village school children, we have recently opened two "TOY LIBRARY" at Shiravali Primary School and Khondyachi wadi Primary School at Tembare village at Murbad, Thane District on experimental base. We have arranged as far as possible all types of educational, colorful eye catching toys to boost up the children's brain.
In a short break-up, it is miraculously noticed that children who were lazy about studying, who - later on showed their interest to attend schools regularly and attention to study. In our child upliftment in rural areas we give top priority to labour on the mission NO TOY LIBRARY-NO SCHOOL.
When this heavy task works out successfully, we are very sure that it will be a golden pill to every child for nourishment to brain to build a prosperous future and the breathless but obedient TOYS are ever ready to sharpen the I.Q. of a child. And the day will not be far away that a village student will stand to challenge with metropolitan so called scholars of city schools.