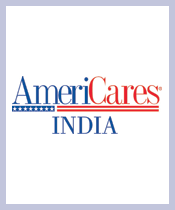 Americares India Foundation
1st Floor, Seagull House, 6, Shivaji Colony , Chakala Andheri East, Mumbai, Maharashtra, India, 400099
Founded Year: 2006
Cause category: Health
Telephone: 022-65568098
Charity Bib Status:
Not Available
Raised by 0 contributors.


Donations for SCMM 2015 are closed. Thank you.
About NGO:
AmeriCares India Foundation is a public charitable trust registered in 2006 in New Delhi. We provide free primary health care to the poor in India, irrespective of their race, creed or political persuasion. In that capacity, we have operated in 27 states and two union territories across India. Over the last two years, we have already delivered more than Rs 7 Crores worth of free essential medicines and medical assistance to beneficiaries across India.
Our programs focus on 3 core areas: Mobile Medical Clinics, Emergency Response & Readiness and Medical Commodity Assistance. We also focus on disease specific interventions in the area of health worker safety and community based health education. Our fully equipped warehousing facility supported by advanced inventory management system enables us to monitor the movement of medical commodity assistance we provide through our partners.
Fund Usage:

In 2011 AmeriCares introduced the Mobile Medical Clinic (MMC) program with a vision to provide 'access and continuity' of quality primary care to the marginalized population in the slums of Mumbai. Our seven mobile clinics visit more than 130 locations across 11 municipal wards treating nearly six hundred patients every day.
Staffed with a physician, pharmacist, social worker and patient registrar each MMC visits the clinic site twice every month. Since inception, the mobile clinics have rendered more than 1, 60,000 consultations. With a capacity of offering nearly 20,000 consultations a year. AmeriCares mobile clinic program is catalyzing the primary care in the slums of Mumbai.
Impact:
On 14 April 2012, 5 year old, Master Sohel Khan came to the mobile medical van of Americares India Foundation with the complaint of weakness and poor weight gain. As a routine examination, his BMI was recorded. Since he was less than six years old he received 200,000 units of Vitamin A.
On casual auscultation , the doctor was surprised to find the heart rate of 60 beats per minute. Considering his age and anemia it should have been close to 100 beats per minute. Otherwise the patient had no complaints and showed no signs and symptoms of abnormality. Immediately, he was referred to the Cardiology department of a teaching hospital for further investigations.
There he was discovered to have a complete heart block and was advised a pace-maker, which costs 2700$. Such a huge amount was beyond their resources. AIF is now helping the patient to raise the adequate funds which can help the patient to bear the cost of further treatment.