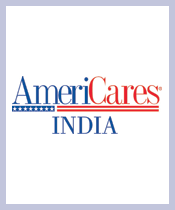 About NGO:
AmeriCares India Foundation(AIF) is a public charitable trust registered in 2006 at New Delhi. We provide medical aid in India and in neighboring countries, irrespective of race, creed or political persuasion. In that capacity, it has operated in 26 states and 2 union territories across India, and has already delivered more than Rs. 21 Crores worth of free medical assistance in the last 2 years. It accomplishes its mission through the donation of essential medicines and supplies to charity hospitals and community medical programs, by operating medical camps in slum and tribal areas, and by responding to disasters such as the earthquake in Sikkim to the floods in Assam, Orissa and Leh-Ladakh or the cyclone in West Bengal. AIF simultaneously emphasizes the need for health education, disaster preparedness and medical training. Regular medical camps provide free medical consultation and free quality medicines to urban slums and rural poor. In addition we raise awareness about disease prevention, health promotion programs, educate children on the importance of proper hygiene techniques.
Fund Usage:
The funds received from the Marathon will help AmeriCares India to provide for the gaps in funding in our currently running programs - Mobile Medical Units in slums called "Parivartan". Each van has a Medical Officer, Pharmacy Assistant, medical assistant cum data entry operator and a social worker cum counselor. Since its inception in January 2011 till June 2012 we have successfully provided consultation to 45,685 patients. The funds will help us reach out to a wider needy population by increasing the number of vans, procuring medicines when needed and project staff.
Impact:

On 14 April 2012, 5 year old, Master Sohel Khan came to the mobile medical van of Americares India Foundation with the complaint of weakness and poor weight gain. As a routine examination, his BMI was recorded. Since he was less than six years old he received 200,000 units of Vitamin A.
On casual auscultation , the doctor was surprised to find the heart rate of 60 beats per minute. Considering his age and anemia it should have been close to 100 beats per minute. Otherwise the patient had no complaints and showed no signs and symptoms of abnormality. Immediately, he was referred to the Cardiology department of a teaching hospital for further investigations.
There he was discovered to have a complete heart block and was advised a pace-maker, which costs 2700$. Such a huge amount was beyond their resources. AIF is now helping the patient to raise the adequate funds which can help the patient to bear the cost of further treatment.



Page Url :
http://www.unitedwaymumbai.org/ngo124_americares_india.htm
Founded Year:
2006
Cause category: Health