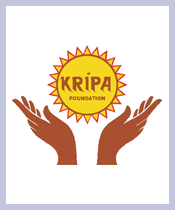 Kripa Foundation
Mt. Carmel Charch, 81/a, Chapel Road, Bandra (west), Mumbai, Maharashtra, India, 400050
Founded Year: 1987
Cause category: Health
Telephone: 91-22-26405411 / 26433027
Charity Bib Status:
Not Available
Raised by 9 contributors.


Donations for SCMM 2015 are closed. Thank you.
About NGO:
The largest Non-Governmetnal Organization in India affiliated with the Union Ministry of Social Juctice & Empowerment. Over 33 years of sevice. 71 facilities in 12 states and growing. Focus on working among people afflicted with chemical dependency & HIV infection. Also care provider to street children and children of CSW's. Training and research in Chemical Dendency, Rehabilitation and HIV/AIDS, and offer a broad spectrum of services to the community, facilitating law enforcement agencies, education institutaions and other academic institutaion that are involved in Human Services through 'awarness' and training programs.
Fundraisers supporting this NGO:


Fund Usage:

The priority projects of Kripa in this year has the setting up of shelter for the Teen age Sex Workers in Dharavi. We are also in the process of creating our own facility in Shillong since our rented home is in a bad shape This centre will provide rehabilitation to the youth especially the growing female addicts in the North East. Our work in the remote villages of India like Zuneboto in Nagaland and in Mokhada in Maharashtra will also be strengthened by this collection.
Our on-going work with HIV patients especially the children both afflicted and affected by the HIV parents in VRACS (Vasai Region AIDS Control Society) will be given nutrition and support at our Kripa Aids project in Vasai. We also support children of Addicted parents to further their studies and fifteen of these are in universities Twelve Adivasi Boys are being also supported totally for their boarding and lodging as they come from remote Maharashtra to pursue their University studies. Lastly our first female centre in Goa for women needs to be completed this year we look forward to inaugurating this wing in Colva by the funds we collect at the Marathon.
Impact:
Norman started taking drugs at the tender age of 16. Initially he started it because of boredom, but then went into high usage as he could not cope with his studies. His friends circle changed, he frequented clubs and parties where drugs were freely available. He never really had difficulty for finance as he was lucky at cricket match betting's, which helped to pay for his 'using'. Drugs gave him a false high, with self-will running riot, and he used to experience a great physical energy, dreaming of wonderful fantasies, leaving him often in a state of trance. It did not give him any pain at first and he did it just for fun. He was an active addict for two years which gradually resulted in attention deficiency disorders and erratic impulsive behavior. His working parents had no clue as to what was going on in his life and his poly drug affair got worse with him visiting Goa and involving himself in the nightlife there.
His addiction came to light when he was visited by his parents in Goa. They were both shocked and helpless since they knew nothing about Chemical Dependency. That's when they turned to Kripa Foundation for help. Seeing their concern and worry, Norman accepted that he needed help and embraced the Kripa model. After vigorous counseling and completing the Rehab program at Kripa Foundation, Norman regained a sense of responsibility. Today he does his bit as an 'Experiential Role Model', motivating and helping others with their recovery.
He says "One of the strong reasons for me quitting drugs was my mother. Although she has been suffering from leukemia since the last seven years, yet she remained strong and supported me".
More Related
About SCMM 2015
Participating Charities
Corporate Teams
Individual Fundraisers
Student Challenge
Fundraiser Levels & Privileges
How It Works
Fundraising Kits
Charity Bibs
Frequently Asked Questions
Downloads
The Superhero Rises!
Click to watch the video.