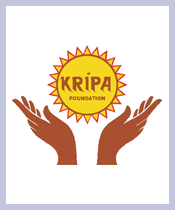 About NGO:
Kripa Foundation is the largest NGO, affiliated with the Ministry of Social Justice and Empowerment, Govt. of India, helping people and youngsters afflicted and affected from Chemical Dependency and HIV-AIDS, offering a non-discriminating, supportive Community Living, to bring about a life-style change in people and also highlights the need to study risk perception, effectively assist in harm minimization and trains the affected individuals to monitor life as an ongoing process of Spiritual Growth.
Kripa Foundation is a Public Charitable Trust offering 70 facilities in 11 States in India, out of which 5 centres are aided through MSJE grants. The remaining centres are aided by National and International Donors.
Objectives:
To provide and support care treatment for addicts and PLHAs.
To interface with community through prevention intervention modules.
To conduct internal training programs and provide resource for external institutions.
To generate human resources through rehabilitation.
Fund Usage:
"As Kripa gets older, our clientele gets younger". This is because the initiation with drugs has fallen to as low as 14 year olds in schools. This baffling situation requires intervention, care and awareness at every stage and this is what Kripa aims at achieving this year. We want to penetrate society and educate all with the evil affects of Chemical Dependency. Women in India, particularly face greater problems from chemical dependency. This includes domestic violence and exposure to HIV/ AIDS, not to mention financial distress. Their problems are multiplied because not many organizations cater to such women. This year Kripa intends to organize specific prevention programs to enhance protective factors and to reverse or the reduce risk, of these women in particular. This year Kripa plans to introduce wide spread prevention programs addressing all forms of chemical abuse, awareness through education and information for parents, brief family focused interventions, prevention research, and finally family based, school based and community based prevention programs for society. In addition to all this, we are already running a successful home for street children in Dharavi. Here we conduct programs for educating the street children, and also help the ones who are already addicted. This year we plan to utilize the funds on extending our reach to many more street children. Only a fraction of our funds comes through government aid, hence Kripa Foundations sincerely appeals to all to contribute to our cause and rid our society of the menace called addiction and its many forms.
Impact:
Norman started taking drugs at the tender age of 16. Initially he started it because of boredom, but then went into high usage as he could not cope with his studies. His friends circle changed, he frequented clubs and parties where drugs were freely available. He never really had difficulty for finance as he was lucky at cricket match betting's, which helped to pay for his 'using'. Drugs gave him a false high, with self-will running riot, and he used to experience a great physical energy, dreaming of wonderful fantasies, leaving him often in a state of trance. It did not give him any pain at first and he did it just for fun. He was an active addict for two years which gradually resulted in attention deficiency disorders and erratic impulsive behavior. His working parents had no clue as to what was going on in his life and his poly drug affair got worse with him visiting Goa and involving himself in the nightlife there.
His addiction came to light when he was visited by his parents in Goa. They were both shocked and helpless since they knew nothing about Chemical Dependency. That's when they turned to Kripa Foundation for help. Seeing their concern and worry, Norman accepted that he needed help and embraced the Kripa model. After vigorous counseling and completing the Rehab program at Kripa Foundation, Norman regained a sense of responsibility. Today he does his bit as an 'Experiential Role Model', motivating and helping others with their recovery.
He says "One of the strong reasons for me quitting drugs was my mother. Although she has been suffering from leukemia since the last seven years, yet she remained strong and supported me".

Page Url :
http://www.unitedwaymumbai.org/ngo122_kripa_foundation.htm

Founded Year:
1987
Cause category: Health
Our Supporters