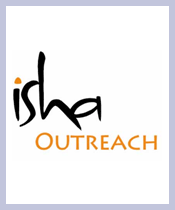 Isha Outreach
Isha Outreach, 23/7 Raja Nagar, 2nd Street, Sowripalyam, Coimbatore, Tamil Nadu, India, 641028
Founded Year: 2009
Cause category: Social, Civic & Community Development
Telephone: 04222580186
Charity Bib Status:
Not Available
About NGO:
Isha Outreach's mission is to mobilise rural populations and marginalised social groups to transform their communities by providing holistic health care, building sustainable livelihoods, empowering children with quality education and promoting life in harmony with the environment.
Fund Usage:

The donations will be spent towards setting up mobile and static rural clinics that will provide reliable primary health care for the poor at less than half the cost at most private clinics.
Impact:
Isha Outreach has provided 4 Isha Rural Health Clinics which provide 220 villages with 24 hour access to physicians, lab and pharmacy. The 20 mobile health clinics offer free primary care in 815 villages every fortnight and facilitate 430 medical camps.