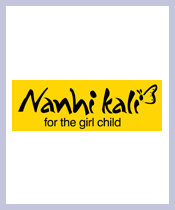 K.C. Mahindra Education Trust
Gateway Building, Apollo Bunder, Mumbai, Maharashtra, India, 400001
Founded Year: 1996
Cause category: Education
Telephone: 022-022895500, 022-022895521
Charity Bib Status:
Not Available
Raised by 46 contributors.


Donations for SCMM 2015 are closed. Thank you.
About NGO:
Project Nanhi Kali, the flagship programme of the K. C. Mahindra Education Trust, was incepted in 1996 with an objective of building an educated and literate Indian female population which in turn would have a positive multiplier effect on the Indian economy. The project is jointly managed by K.C. Mahindra Education Trust and Naandi Foundation since 2005. The program provides high quality; learning outcome guaranteed education interventions to underprivileged girls studying in government schools in poverty stricken urban, rural, and even conflict afflicted tribal regions in India. The Nanhi Kali Project also aims to reduce the high rate of drop outs among girl children in these areas. Assistance is provided in the form of academic and material support. The Nanhi Kali project sets up Academic Support Centres at these govt schools, where concepts of maths and language are taught to the girls after school hours. Material support is provided in the form of school bags, uniforms, shoes, books, stationery and hygiene material which ensure the girls can attend school with dignity. The Nanhi Kali team also works with the parents and community at the grass root level to sensitize them on gender equity and hence gradually help change mindsets and attitudes. Currently we are reaching out to 97,000 underprivileged girl children from 9 states in India i.e Andhra Pradesh, Chhattisgarh, Delhi, Madhya Pradesh, Maharashtra, Rajasthan, Tamil Nadu, Haryana and Karnataka.
Fundraisers supporting this NGO:


Fund Usage:

"I could have grown up becoming a terrorist and destroying lives of people, but with Project Nanhi Kali I am studying and using the weapon of education to destroy poverty, illiteracy, and casteism."
-Lomeshwari, A Nanhi Kali from Kanker, Chattisgarh
In spite of many efforts, India still has an alarming rate of girl children who drop out of school. They are either married off early, become household maids, laborers in factories or are even forced into prostitution.
This is your chance to show solidarity with the cause of girl child education. Run for Nanhi Kali to raise awareness and pledges!
Fund Utilization:
Project Nanhi Kali is present in 9 states in India. Funds raised through SCMM 2015 will be used to scale up the projects in all the different locations. The beneficiaries will get the following through funds donated.
Material support - a material kit is extended to the girl child annually consisting of uniforms, school bags, shoes, undergarments, notebooks, stationery and etc.
Academic Support - It is extended through Academic Support classes which are run in schools attended by Nanhi Kalis either prior or after the school hours. We try to ensure Nanhi Kalis acquire grade specific learning competencies. Concepts in Maths, Science and language are taught to the children at these specially organized classes.
A high quality basic education will better equip girls with knowledge and skills needed to adopt healthy lifestyles, and to take an active role in social, economic, and political decision-making as they transition to adolescence and adulthood.
Impact:
Bhavna is a teenage girl from a remote village of Chainpura in the Karahal block of Sheopur district who with determined eyes says, "I want to be a doctor when I grow up and treat the people of my village".
A first generation learner, Bhavna was not keen to attend school. Her parents' poor financial condition made it difficult for her to attend school or complete basic education, let alone think of a career or financial independence. The parents are agricultural laborers with a monthly income of merely INR 1500. They had been farmers for generations and it was beyond anyone's imagination to be anything else. They are a family of four who live in a thatched house made of mud which leaks rain water during monsoons. Though herself a juvenile, Bhavna is adept at cooking, fetching water and caring for babies. She looks after her baby sister while her parents go out for work. She could thus hardly get any time to come to school.
That is, till she became a Nanhi Kali. As part of the Nanhi kali program she received support in the form of a material kit which comprised of uniforms, school bag, shoes socks etc. to enable her to go to school with dignity. Apart from this, she receives academic support through a 1-2 hour class conducted before or after school hours called the Academic Support Centre, where concepts in Maths, Science and Language are taught to bridge the gaps in learning and enable children to attain grade specific competency levels. The teaching methodology includes the extensive use of innovative teaching tools and activities such as storytelling, group games etc which make learning not only meaningful but also fun. The Nanhi Kali team also works with the parents and community to sensitize them on not only gender equity but also issues related to adolescent health & hygiene.
Bhavna is now the first proud member of her family to learn how to read and write. Not only has she maintained her attendance in school but Bhavna has also proved herself in her studies. From 42% in 2008-2009, her learning levels improved to 75% in 2011-2012. We wish her success and hope she becomes a doctor one day!
More Related
About SCMM 2015
Participating Charities
Corporate Teams
Individual Fundraisers
Student Challenge
Fundraiser Levels & Privileges
How It Works
Fundraising Kits
Charity Bibs
Frequently Asked Questions
Downloads
The Superhero Rises!
Click to watch the video.