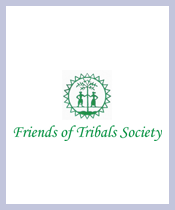 Friends For Tribal Society
B-801, Shilp Building, Pandurang Budhkar Marg, Lower Parel (west), Mumbai, Maharashtra, India, 400013
Founded Year: 1989
Cause category: Education
Charity Bib Status:
Not Available
Raised by 0 contributors.


Donations for SCMM 2015 are closed. Thank you.
About NGO:
The Friends of Tribals Society (FTS) strives for a smiling happy India. Mission of FTS is to eradicate illiteracy from rural areas particularly among Tribals, so that a literate tribal population will also simultaneously get across to primary health, child care, gainful self employment to empower themselves economically and socially.
Ekal Vidyalaya started in the year 1989 in Tribal villages of Jharkhand by opening some vidyalaya based on One Teacher School (OTS) concept to take the education at the door step of most deprived category in India.OTS Concept evolved as cost effective education support system. It has benefited over 26 lac students across the country since its inception presently there are 51,474 such schools across tribal and rural Bharat spread in 20 states and educating 14 lac children.
Ekal brought forward an integrated plan for the upliftment of Tribal & Rural Bharat. The plan of action was conceptualized after considering all grass-root experiences, inputs from social leaders and people from different walks of life. The movement started as Ekal Vidyalayas, transformed into 'Ekal Abhiyan' with five fold education (Panchmukhi Siksha) at village level.
For further detail you may log on to our website www.ekal.org
Fund Usage:

"It is possible for FTS to reach out to the thousands of far flung tribal villages only because of volunteers based in villages, talukas and small towns. This networking enables the urban people to be able to open schools in their villages and organise Gram Sabhas, from which platform , important dialogues can be done with the villagers as to better farming methods, how to make vermiculture pits, using RTI to help themselves, First Aid knowledge etc.  The list is endless, how we can help to better their lives. FTS has now opened 54,241 schools. With more funds, we aim to reach 1 lac tribal villages. Since this is our area of thrust, there is no point in deviating from our aim of educating the tribal children, and so will continue to open more schools. "
Impact:
Impact and Achievement of our NGO
As on date 14 lac children are being educated in ekal vidyalaya and 13 lac students have already completed their studies in ekal vidyalayas. We have more than 26 lac village members in our vidyalaya villages. We have 12 lac active youngsters & 6120 full timer Karyakartas.
Our Mumbai chapter president Shri Jitendra Bhansali has been bestowed with an award by JITO (Jain Industries Trade Organisation) Shri Motilal Oswal, President, JITO presented him the award on January 27, 2013.
Sita Ram Jindal foundation selected Bharat Lok Shiksha Parishad (BLSP) working under aegis of EKAL ABHIYAN for prestigious 'S. R. Jindal Prize 2012, Cash amount of Rs. 1 Crore. BLSP received award from Gurudev Sri Sri Ravishankar ji for exceptional achievements in the field of peace, social Harmony & Social Development.
Sri Satya Narian Bandhu, Chaiman, BLSP was bestowed 'MANAV KALYAN PURASKAR – 2009' by Smt Sarladevi Dharmarth Trust in Meri Dilli Utsav Held in Oct. 2010 for his social services rendered in the field of helping downtrodden children of the Society and Eakl Vidyalaya Abhiyan.