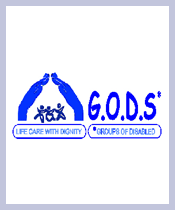 MBA Foundation
Gods'heavens, Ground Floor, Next To Crystal Palace Complex, Near Powai Police Station, Rambag, Powai, Mumbai, Maharashtra, India, 400072
Email: lifecare.disabled@gmail.com , meenakshib.18.1@gmail.com
Website: www.lifecare-disabled.org
Visit on Facebook: pages/MBA-Foundation/316424201784660
Charity Bib Status: Not available

Online Donations raised so far: Rs.265500/-
About NGO:
"AFTER US WHAT ?" a question from parents of persons with disabilities initiated the forming of MBA (Mutually Beneficial Activities) Foundation in December 2001, mainly to provide occupation through sheltered day care services and permanent life care services to those unable to find gainful occupation in mainstream or self-employment; and those who have no one to take care of them. Now it has rehab services for all age groups. Services include assessment, counseling (for parents also), therapy (speech, occupational, physio & psycho), early intervention for small children, prevocational and vocational training for youngsters and support in activities of daily living, and permanent residential life care services., with a lot of recreational activities like Bhajans, Yoga and Celebrations of Festivals.
Admission is open 12 months of the year.
Mission:- A LIFE WITH SELF ESTEEM & DIGNITY FOR THE DISABLED.
In the last 11 years, we have replicated our model centre (day care & life care) in 4 locations. We have also extended our services in the area of training the trainers for vocational training to other schools in far off suburbs of Mumbai, which in turn help adults with disabilities in those areas. In the long run, these role model rehab centres can be replicated in many more places, extending opportunities to many more such youngsters, to change their living condition and the general perception and attitude of the general public, from sympathy and charity to empathy and value adding occupation.
More than 75 persons have been placed in good corporate jobs after training in Computer usage, English language, Office Etiquettes, etc.
There are 105 youngsters working as per their capabilities in our 4 centres, making & packing of various value adding items and earn a stipend. They enjoy therapy, yoga, exercises, get together and going out to exhibitions selling their own products.
5 small children have been integrated in normal / special schools in the last 3 years.
This model of rehab with ample opportunities of upgrading each individual through training and occupation is the key to realizing our MISSION. Replication of this model in many more locations in India is the goal and this can be achieved only with the rising of parents of PWDs and believing that THAT THEY TOO CAN LIVE A LIFE WITH DIGNITY.
Fund Usage:

Construction of "An Integrated Rehabilitation Care Centre" for Persons with Disabilities, in Airoli, Navi Mumbai.
This project will be completed in approx.. 2 years and the total cost is estimated at around Rs. 9 crores.
On completion, this can support 75 residential beneficiaries, 300 day care beneficiaries (of all ages) and network with rural schools and spread awareness about differently abled children and support them.
Funds raised through participating in this Marathon will be utilized exclusively for Construction of this project.
Impact:
Bhushan Jagtap is 31yrs old mentally challenged man. Having attended a special school initially in Mumbai, he moved to a village UP, when his mother remarried. She died in the village and the father, very ill, brought him with reference from the old school. Leaving him with us, the father passed away soon after.
Bhushan was under heavy stress due to his past. He could not manage his daily activities, not able to communicate, or do any work with his hands. With diagnosis, medical checkup and assessment, his training started from the basics, 4 years ago.
Being a residential beneficiary with no family member to support him, either emotionally or financially, the whole responsibility was on us. He is totally being supported by us.
With continued counseling, love, care and training, he has come out of his shell and participates in all activities. 90% independent, happy to work and eager to help others are a few of the traits we find in him. Efforts are on to see if he can work as a peon in a nearby missionary in Gorai, where he lives.
Page Url :
http://www.unitedwaymumbai.org/ngo116_gods.htm
Founded Year:
2002
Cause category: Disability
Telephone: 28574456 / 28576972/9867378765
Our Supporters