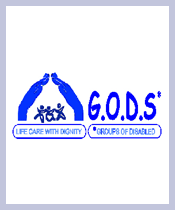 MBA Foundation
Gods'heavens, Ground Floor, Next To Crystal Palace Complex, Near Powai Police Station, Rambag, Powai, Mumbai, Maharashtra, India, 400072
Email: lifecare.disabled@gmail.com , crbala40@gmail.com
Website: www.lifecare-disabled.org

Charity Bib Status: Sold out

About NGO:
MBA (Mutually Beneficial Activities) Foundation is a charitable organisation, working for the integrated rehabilitation of persons with disabilities. It was started in Jan., 2002 by a group of parents of 7 disabled girls, to answer their traumatic question " after us , what ? "
We run four care centres in Powai, Chembur, Thane & Gorai & our regular activities include:
1. Early intervention clinic 2. Pre-vocational education & training,3. Vocational training - for persons above the age of 18 years
4. Few of them, who are educable, are helped to complete school education through NIOS; and
5. Those who are educated, are helped with training & placement support for jobs in corporate offices.
6. Daycare sheltered work centres to keep trained adults occupied, value adding & earning.
7. Life care centres for residential care of disabled people.
8. RCI recognized training programs - for teachers, care givers and parents.
We work towards the acceptance of persons with disabilities in the communities. We therefore, hold regular awareness programs besides taking our beneficiaries to other social programs & public places
Social transformation efforts are :
A) awareness on issues relating to persons with disabilities through regular presentations.
B) better acceptance by parents, family members, community, etc.
C) empowerment of persons with disabilities thru the theme "i too can", by
Ensuring that they are busy and contribute to some value adding activities .However big or small, which are exhibited and sold to the community members, ensuring that they too admire and accept the capabilities of these youngsters.
Fund Usage:
PROJECT PROFILE - DETAILS & FINANCIALS. We Plan To Have An Integrated Rehabilitation Care Services Complex In The Land Allotted By CIDCO In The Institutional Area In Airoli. It Is About 9000 Sq. Ft. With An FSI Of 1 to 1. So We Can Build Approx 10000 Sq Ft In The Plot And Create A Slot For All The Rehab Activities We Offer At Present And More Outdoor Activities Like Gardening And Sports. There Will Be Life Care Facilities For Adults, Who Need The Same. Ramps Railings And Clamps Will Be Required Around The Building For Easy Reach To Higher Floors Independently By Physically Challenged People. Two Lifts Will Be Required To Reach The Higher Floors. Front Elevation Proposed For Airoli Bldg.
Impact:
Uma maheshwari is 25 years old life care beneficiary in gods heavens centre at Powai , and is mentally challenged. Initially, she used to be hyper active, running around and not able to sit and work. But she is a loveable girl with a very smiling face and positive attitude.
Now she has sobered and listens and follows instructions to complete her activities of daily living ( brushing, bathing, combing hair, keeping herself & her clothes clean, etc.) She has slowly started to sit in groups during training, and is able to function with one to one attention from teacher or volunteer.
Uma is now trained to attend to a job for longer duration by working on her concentration span. Uma enjoys group therapy and looks forward to weekly bhajan sessions. She participates very enthusiastically in music and dance practice.
Uma is a lifecare member of MBA Foundation and also is active in the day care activities. She needs total sponsorship for her rehab and medical facilities.We have 13 such beneficiaries who require total sponsorship.


Page Url :
http://www.unitedwaymumbai.org/ngo116_gods.htm

Online donations are now closed for SCMM'13'
Founded Year:
2002
Cause category: Disability
Telephone: 28574456 / 28576972/9867378765
Our Supporters
You can raise funds by placing this donation widget on your web page or blog. Please click on the image.