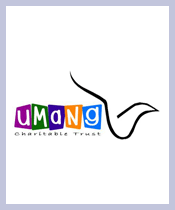 Umang Charitable Trust
93/924, Siddhivinayak Co Op Hsg Society, Near Link Road, Dahanukar Wadi, Mahavir Nagar, Kandivali West, Mumbai, Maharashtra, India, 400067
Email: bhawanakerkar@yahoo.com, nishith_sakhpara@yahoo.com
Website: www.umang-trust.org

Charity Bib Status: Not available

About NGO:
Umang Centre for Autistics and Slow Learners, located at Mumbai, focusing on treatment of children with autistic disorder and slow learners. Umang provides its services to affording as well as non-affording (poor) class of parents and children through its activities. Apart from close to 40 special children at its own school, Umang provides therapy and education free of cost to close to 150 special children at a BMC school in Borivali, Mumbai. At Umang, we concentrate on children, diagnosed with developmental disabilities mainly Autism.
Dr. Mrs. Bhawana Kerkar, a Clinical Psychologist (and founder Trustee of Umang), initially started off by providing therapy to a few children at her own premises. Umang School for Autistics and Slow Learners was started in 2005 at Mahavir Nagar, Kandivali. Umang School is equipped with the latest equipment's and trained therapist to provide quality education and therapy to children. Hundreds of children and their families have greatly benefited from the services provided by this Trust since its inception.
What do we do at UMANG:
Early intervention to help parents to decide course of action for education and therapy of their child.
Acceptance of the teenage autistics by the society and independence in all the self-help areas.
Independence and employment of the autistic adult in the community.
Umang provides the following services through its school for autistics and slow learners:
Psycho Educational Assessment
Psychological Counseling and Guidance
Occupational Therapy and Sensory Integration
Remedial Education
Cognitive Therapy
Speech Therapy
Social Skills Training
Pre-vocational Training
Parent Support Group and pre-NIOS training
Fund Usage:

We are seeking to employ funding for an additional space from which to operate. We have identified a suitable space at Borivali West, Mumbai. The reasons for this requirement are:
The crowded commute on the train to Kandivali is very difficult for parents coming from Andheri and Virar as Borivali is a Junction.
We would like to expand our services to reach an additional 350 children in an area where no such services exist. We envisage further expansion through setting up more Umang centers throughout Mumbai in the future.
We need all the units under one roof ,since at present we are scattered in three different units in same lane.
We would like to replicate the programs we provide in Kandivali in this centralized space. Additionally, we would like to initiate a Vocational Training Program for 16-18 year olds. This will ensure that the education invested in them up until this point is made sustainable by providing them with vocational skills that will secure them employment. This in turn will make them self-sufficient and less dependent on their parents and the community. Currently, there is no such program for children with autism and learning disabilities.
Impact:
Success Stories: Vinitha
Vinitha was referred to Umang for therapy and education in 2006.
Symptoms: Hyper, Temper, Violent tendencies, No eye contact, Incapable of self care and hygiene
Diagnosis: Autistic with various sensory and behavioral issues
Treatment: Speech therapy, Occupational therapy, Sensory integration, Behavior therapy.
After Treatment: Reduced hyper tendencies, reduced temper, reduced violent tendencies, improved self-care and hygiene, improved eye-contact.
She can sit at one place for longer period of time, completed NIOS level A and now giving Level B Exams.
Page Url :
http://www.unitedwaymumbai.org/ngo113_uct.htm
Founded Year:
2001
Cause category: Education
Telephone: 022-28600624
Our Supporters