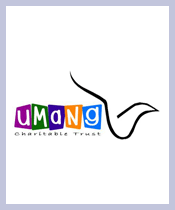 Umang Charitable Trust
93/924, Siddhivinayak Co Op Hsg Society, Near Link Road, Dahanukar Wadi, Mahavir Nagar, Kandivali West, Mumbai, Maharashtra, India, 400067
Email: umangtrust2000@gmail.com
Website: www.umang-trust.org

Charity Bib Status: Sold out

About NGO:
Fund Usage:

Average Regular Monthly Expenses as actual
Driver (1) : 8000
ELECTRICITY BILL : 2500
Van Attendant : 3000
TELEPHONE BILL : 2000
_______________________________
INTERNET BILL : 300
Total : 150800/-
CNG BILL : 3000
SUNDRY EXPENSES 2500
SALARY TO STAFF :
Teachers and Special Educators ( 7 No.s) 85000
Part Time Therapists ( 5 ) 35000
Clerical Staff (1 clerk ) 3500
House keeping staff (2 Aaya Bai) 6000
The money collected through marathon donations shall be used to support the annual deficit cost. This shall give UMANG a stable foundation.
UMANG shall use the additional donation amount to create corpus fund which inturn can generate some steady income which can support expenses like purchase of new equipments, audit fees, expansion of facilities, etc.
Impact:
Riya Dhuri, 14 years old Spastic C.P. girl is a student of B.M.C. Special School , with a c/o Inability to walk and eat by her own. On Assessment she showed 'Borderline' Intelligence .With the SCMM fund we could appoint Occupational Therapist. Riya was given Occupational Therapy and Remedial Education. After therapy her insecurity is decreased. Her confidence improved .Now is able to walk with support. Attempts to walk is increased.
Rohan Rane diagnosed as Autistic. C/o no communication (not responding to name), hyperactivity. With proper intervention he is able to respond and follow instructions.
Siddhesh Inamdar complains of hypoactive, poor communication and gravitational insecurity. Now his gravitational insecurity is reduced well, level of social communication is improved. Now hi is more alert and active.
Likewise we plan to use collections this year to support our existing deficit and hire a bigger place where everything can be provided under one roof.


Page Url :
http://www.unitedwaymumbai.org/ngo113_uct.htm
Online donations are now closed for SCMM'13'
Founded Year:
2001
Cause category: Education
You can raise funds by placing this donation widget on your web page or blog. Please click on the image.