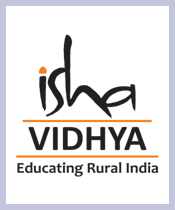 About NGO:
Despite considerable economic progress in India in the last couple of decades, poverty has continued to pervade rural areas. However, with access to education, youth in rural areas can be empowered towards wellbeing and contributing to the country's development.
Isha Vidhya's English-medium schools open the door for rural children to successfully pursue higher studies and gainful employment.
Isha Vidhya aims to provide high quality school education to rural children who cannot otherwise afford it. Isha Vidhya schools
- take education beyond literacy and rudimentary skills
- strive to make children fluent in English and adept in computer skills
- adopt a nurturing approach to education, helping children realize their full potential
- actively promote education of female children
- increase educational awareness in rural communities
equip rural youth with skills to rise above the 'hopeless' situation they often find themselves in, empowering them to pursue higher studies or gainful employment
Fund Usage:

Isha Vidhya http://www.ishavidhya.org/, a Not for Profit education initiative, works for the economic and social empowerment of rural children in the villages across southern state of Tamil Nadu, India. Isha Vidhya currently runs 7 schools and this has had a great impact in the lives of villages in the surrounding locality. The schools presently cater to over 4050 students from nearby villages, with approximately 60% of students on free education through donations from the scholarship program. Isha Vidhya has been an active supporter of promoting education among female children in the villages and all the schools have seen an increased enrolment of girl children.
Isha Vidhya has created the possibility for the rural children to pursue higher education or find gainful employment and thus build a strong foundation for the future of these children and alleviate themselves out of poverty.
As the schools increase the intake of fresh students every year, there is increased requirement of funds for infrastructure expansion. For 2013, the requirement includes 69 classrooms with furniture, toilet blocks, schools buses, educational aids and other infrastructure for the 7 existing Isha Vidhya Schools. The school infrastructure is funded out of individual and corporate donations. The operating expenses are partly met through the fees charged and mainly through the sponsorship from donors towards scholarships and food/ transport subsidies.
Impact:
Isha Vidhya -Key Statistics
-First School Start Date - Jun 2006
-Total number of Schools Now - 8
-Total number of Students -4050
-% Girls -46%
-Total number of Teachers - 223
-Avg Income of Parents- Rs. 5000/month ( $US 105/£ 66)
58% of students on Scholarship (some are fully supported, some pay for transport & uniforms, some a small amount for food)
Impact
The schools transform almost every aspect of a child's life & parental attitudes to education, as well
The child
-Learns basic hygiene
-Is comfortable comprehending and conversing in English in 2 - 3 years?
-Is able to develop to their fullest potential through opportunities exploring sporting
and other talents like music, arts, etc.
-Children get to learn basic life skills, connect with nature and live responsibly, which helps them handle life with confidence and sensitivity
-Their physical & mental growth is helped to a great extent by the nutrition provided at the school
-They learn to appreciate their culture & traditions better
Page Url :
http://www.unitedwaymumbai.org/ngo112_isha_education.htm