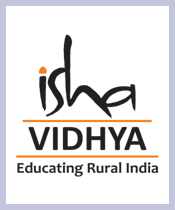 Isha Education
14 A, C.a Theyvar Layout, Kannaperan Mills Road, Udayampalayam, Coimbatore, Tamil Nadu, India, 641028
Founded Year: 2005
Cause category:
Telephone: 0422-4272740
Charity Bib Status:
10 Available
`

791847.99
of
`
20000000
Raised by 133 contributors.

About NGO:
As a part of Isha's social outreach programs, Isha Vidhya rural schools have been started in villages (under the umbrella of Isha Education, established in 2005) to provide high quality school education to underprivileged rural children who cannot otherwise access or afford it. In 2012, Isha Vidhya began to carry out critical interventions to improve the quality of education in rural Government schools.
Isha Vidhya currently runs 9 schools in Tamil Nadu & Andhra Pradesh. The schools presently have 6415 children (46% are girls), with approximately 3850(60%) students on free education supported by donations under a scholarship program, while the rest pay a nominal fee.

Highlights include:
Take education beyond literacy and rudimentary

skills
Strive to make children fluent in English and adept in computer skills
Adopt a nurturing approach to education, helping children realize their full potential
Promote education for girls
Increase educational awareness in rural communities while preserving local identities and culture
Equip rural youth with skills to rise above 'hopeless' situations of the past
Isha has also adopted 56 Government schools in Tamin Nadu to improve the quality of education in these schools by carrying out critical interventions, which impacts over 40000 children. In Andhra Pradesh, a project for direct intervention in 460 Govt. schools in Kuppam, Chittoor Dt. is also underway benefiting over 38000 children and 2000 Govt. teachers.


Fundraisers supporting this NGO:


Fund Usage:

Educate a Child… Make a Life!
Why Donate?
India's rural masses have the potential to contribute and share in the growth of this country; the key is education. Education is the only ladder that we could provide to raise these underprivileged rural children from poverty. For most of these children their only good meal of the day is at school. Many learn how to use a toilet and other aspects of personal hygiene only at school.
Why Support Isha Vidhya?
Isha Vidhya's English-medium schools provide high quality school education to rural children who cannot otherwise access or afford it. They adopt a nurturing & holistic approach to education, helping children realize their full potential. The schools transform almost every aspect of a child's life & parental attitudes to education as well, while preserving and enhancing awareness of their local culture. Isha Vidhya schools are run largely by volunteers and hence cost of fund raising is very low (<2%). Every rupee you donate will be put to effective use.
Fund Utilization Plan
2015-16 could be a landmark year as we are hoping to complete critical infrastructure aggregating about 2 crore including classrooms, compound walls, school buses, computers & sports equipment thru Mumbai Marathon. This will ensure all major infrastructure needs of Isha Vidhya schools are completed by this year. So next year on wards we can focus on growing the Govt School Intervention programs quite significantly or building a new IV school in a new district.
In the current year, Isha Vidhya requires to build 11 classrooms, 19 school buses, provide for scholarships and support the 56 Government schools that have been adopted. In addition to the above, approx 700 new children get admitted every year who require scholarships over and above the existing children.
Impact:
Our students make us proud
Our first batch of 10th standard students took the public exam this year in 2015 and they have done us proud by posting 100% pass result. Overall average score across Isha Vidhya schools is 89%! Several students have scored high aggregates and 100% in many subjects like Math, Science and Social Science. This result is all the more remarkable as majority of the students belong to financially weak backgrounds, where English as a language is never used. Our students faced severe challenges to give exams in English medium and yet posted a fantastic result.

Ms. Ruthra, Vanavasi School student, scored the maximum marks among students from Isha Vidhya. Her aggregate score is 494 out of 500, an amazing 98.8%.