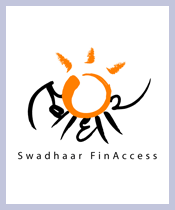 Swadhaar FinAccess
101, Jolitha Complex, Plot No.639, Ghatla Village Road, N.b. Patil Marg Chembur (east), Mumbai, Maharashtra, India, 400071
Email: info@swadhaar.org
Website: www.swadhaar.org

Charity Bib Status: Sold out

About NGO:
The word 'Swadhaar' in Hindi means 'self support' and is a reflection of the organisation's objective of helping its clients improve their financial circumstances -to achieve self-reliance, to increase their income generating potential and to ensure that they are able to meet their daily needs.
Our mission is to assist the urban poor, especially women, to enhance their economic capacity by providing financial education and training, and by facilitating access to savings, insurance and loans, which will enable them to cross the poverty line and meet their aspirations for a better future.
SFA focuses on empowering economically disadvantaged persons, women, men, and working youth living in slum communities by:
Imparting financial education
Facilitating opening of no-frills saving accounts for its clients
Distributing affordable micro-life insurance policies as an agent of Life Insurance Corporation of India
An important new initiative being undertaken is the setting up of a Financial Information and Literacy Centre (FILC), within a slum community in Chembur (Mumbai). The FILC aims to provide people from the low income communities an easy access to financial services. The FILC will provide knowledge, skills, training and support on matters pertaining to finance.
Fund Usage:

Swadhaar works across 12 locations in Mumbai namely Chembur, Malad, Bandra, Borivali, Bhandup & Ghatkopar and 4 locations in Gujarat.
While serving the slum communities of Mumbai, SFA has learned that the cycle of indebedtness is only partly caused by lack of money. The cycle is also caused by lack of knowledge. Women need familiarity with financial concepts, new attitudes about savings, and better skills in money management to break this cycle. This is where SFA makes an intervention, through its Financial Education Programme, Savings Facilitation and Distribution of Micro-Insurance. A third party impact study only vindicated SFA's ground level experiences that many of the women and their families have started to save, cleared debts, opened bank accounts and have started to plan and manage their finances more effectively. Women have become empowered, confident and have started making personal financial decisions.
The funds raised out of the event will be utilized to reach out to 30,000 women, men and youth in FY 2013-14 and also to set up Financial Information and Literacy Centres in 3 locations.
Impact:
Naina Macchi: A dream to reach the sky
Naina Machhi, a 47 years old participant of SFA from Baroda, was embroiled in all sorts of difficulties. After the sudden demise of her husband, all monetary responsibilities of her family fell on her shoulders. Born into a very traditional community, she faced a lot of criticism from society and even her own family for being a single mother and that too with aspirations of her own. Although illiterate she dreamed of becoming financially independent.
While she was stuck in this appalling situation, SFA's Financial Education Program (FEP) came as light at the end of a tunnel. Naina joined the programme and took active part in the training. Here, she learnt about saving, bank transactions and importance of maintaining a budget. She was especially impressed with "Panch Rupiya Nu Jadu" (keeping aside Rs. 5 every day; an amount she was collecting for her daughter's further studies).
Earlier she had faced a lot of financial and social hardships as a small time vegetable vendor. After participating in the FEP training, she became a consistent and regular saver. This useful habit helped her establish and set up a small vegetable shop at her home. This expansion increased her monthly income substantially, rising by around Rupees 5000 per month.
Naina began to realize the importance of maintaining a balance between income and expenditure and she opened a recurring account in the State Bank of India. She began depositing Rupees 1000 to her account every month
Her improved ability with financial matters prompted her to recommend the FEP training to other women in her community.
Now she is getting more respect than ever. People in her community look upto her. Naina believes that, "this was all made possible due to the initiative I took to become financially independent."
Page Url :
http://www.unitedwaymumbai.org/ngo111_sfa.htm
Online donations are now closed for SCMM'13'
Founded Year:
2005
Cause category: Education
Our Supporters
You can raise funds by placing this donation widget on your web page or blog. Please click on the image.