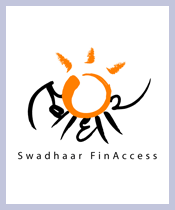 Swadhaar FinAccess
Swadhaar, Tenement 1/3 & 1/4, Old Mhb Colony, Anand Nagar, Santacruz (e) , Mumbai, Maharashtra, India, 400055
Founded Year: 2005
Cause category: Education
Charity Bib Status:
Not Available
Raised by 0 contributors.


Donations for SCMM 2015 are closed. Thank you.
About NGO:
The word 'Swadhaar' in Hindi means 'self support' and is a reflection of the organisation's objective of helping its clients improve their financial circumstances which involves achieving self-reliance and to improving their income generating potential.
Our mission is to assist the urban poor, especially women, to enhance their economic capacity by providing financial education and training, and by facilitating access to savings, insurance and loans, which will enable them to overcome the deprivations of poverty and meet their aspirations for a better future.
SFA focuses on empowering economically disadvantaged persons, women, men, and working youth living in slum communities by:
Imparting financial education through a target specific training module and qualified trainers.
Facilitating the opening of no-frills saving accounts for its clients
Distributing affordable micro-life insurance policies as an agent of Life Insurance Corporation of India
Setting up of Financial Information and Literacy Centres (FILCs) within slum communities as a permanent resource for providing both financial education as well as access to financial services and products.
Fund Usage:

Swadhaar FinAccess (SFA) is a Section 25 Non-Profit organisation registered under the Companies Act of 1956 founded in the year 2005 with the objective of providing the persons living in urban slum communities, predominantly women, an increased access to financial services and to bridge the gap with the formal financial sector. It works across 12 locations in Mumbai namely Chembur, Malad, Bandra, Borivali, Bhandup & Ghatkopar and 4 locations in Gujarat.
While serving the slum communities of Mumbai, SFA has learned that the cycle of indebtedness is only partly caused by lack of money. The bigger culprit often is lack of knowledge. Women need familiarity with financial concepts, new attitudes about savings, and better skills in money management to break this cycle. This is where SFA makes an intervention, through its various Financial Education Programmes, Savings Facilitation and Distribution of Micro-Insurance.
A third party impact study only vindicated SFA's ground level impressions that many of the women and their families have started to save, cleared debts, opened bank accounts and have started to plan and manage their finances more effectively as a result of our sustained interventions.
While we charge only a nominal fee from the participants of our financial literacy programmes, more than 90% is funded through the endowments of corporations and foundations passionate about our cause. Over the years we have given financial training to around 92,000 women and have also initiated training for men and youth.
We look at Mumbai Marathon as an ideal platform for us to draw attention to our cause and also raise much needed funds in order to increase our footprint to over 100000 women and set up many more Financial Information and Literacy Centres SFA firmly believes that the financial empowerment of women has a positive impact in the lives of the women, their families, the society and consequently the economy of the country with due to increased financial security and participation in the mainstream economy.. Thus SFA though working at micro level understands and aims to make macro level changes through its various financial programmes.
Impact:
Sulochana Bhagoji Borade
Sulochana Bhagoji Borade 55, is a participant of SFA's financial education programme. Sulochana Bhagoji wished to set up a vegetable stall however, having invested her money in bogus schemes; she had to behold the loss of her precious savings. Sulochana was in deep distress when approached Swadhaar for a loan.
"My husband is retired and due to some health issues he cannot work. So to earn a regular income I decided to put up a vegetable stall. Swadhaar was like a beacon of light in my time of distress. I approached Swadhaar for a loan and immediately received it. I attended the five day client education programme and found it to be useful for planning my financial expenses. "
Sulochana applied for a loan of Rs. 12, 000 at Swadhaar. Since then there has been no looking back for her. She is earning well and her small scale vegetable business is flourishing.
She says, "The loan money has helped me improve my family's condition. I have managed to build a house in my village which was my dream and I am earning well from my business here in the city. I pay my EMI every month on time and this has allowed me to maintain a clean record at Swadhaar. As a result, Swadhaar has granted me another loan. This is helping to vastly improve my economic situation."
"Swadhaar has helped me set-up my small -scale business and I am thankful to Swadhaar for giving me financial independence and also the motivation to help others in the community to attend the Client Education Programme."