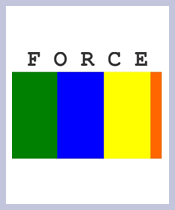 Forum For Organised Resource Conservation and Enhancement
C-8 / 8035, Vasant Kunj, New Delhi, New Delhi, India, 110070
Founded Year: 2004
Cause category: Environment
Charity Bib Status:
Sold Out
Raised by 0 contributors.


Donations for SCMM 2015 are closed. Thank you.
About NGO:
FORCE is a Delhi based NGO that works for the cause of 'creating water secure communities'. Our Vision: To help create productive, responsible partnerships that use traditional wisdom, modern technology and participative governance to Save Water, Share Water.FORCE partners with government, communities, funding partners and technical experts to offer end-to-end support to citizen groups interested in adopting water conservation and sanitation practices. FORCE has created Water Harvesting Potential of more than 100 crore litres annually and helped more than 20 lakh people live life with adequate water and sanitation.
We believe that the real change agents are the people themselves. Hence FORCE supports 'Water Guardian International clubs', 'Jal Rakshaks' and 'Naari Nirmal Awaas Samitis' for leading the Water and Sanitation security revolution in their areas.Within 5 years of its inception, FORCE has received recognition at various levels for our Partnership efforts to help communities adopt rainwater harvesting and conserve water.
Fund Usage:

1) FORCE has launched an urban water security campaign called - BLUE CITY campaign - which aims at making urban centres self sufficient in their basic water requirements. The campaign involves calculating the total internal water resources of the urban centres, assessing their utilization status and then charting an action plan to maximise sustainable utilization. The plan includes doing rainwater harvesting, protection of floodplains, greening of open spaces, revival of lakes and water bodies, water conservation awareness and support. The cities identified are Delhi, Gurgaon, Bangalore, Mumbai and Jaipur.
2) FORCE works on an 11 Point Water and Sanitation program for the urban poor in Delhi. The program aims at educating, empowering, creating infrastructure (with government support) and institutional framework to endure that every poor settlement has adequate water and sanitation facilities.
We would like to use the funds for either of these programs
Impact:
In 2009, with support from Diageo Foundation, FORCE had conducted the JAL SANCHAY ABHIYAAN - a movement to recharge groundwater using dried and abandoned tubewells in Delhi. 50 Rainwater Harvesting structures using abandoned tubewells were made in partnership with local communities in different parts of Delhi. A total recharge potential of 7 crore litres per annum was created and approx 25000 benefitted. The Honble Chief Minister of Delhi felicitated all partners in the project.
The project has inspired the Municipal Corporation of Delhi to replicate this in all parks of Delhi. In 2010, with support from Coca-Cola Foundation, FORCE conducted the RECHARGE 2010 project in NCR. Recharge potential of 101 million litres per annum benefitting 222,000 people was completed. The foundation funds were leveraged to the extent of 257% from communities, government and other sources to revive 1 pond and make 35 groundwater recharge structures as a part of this project.