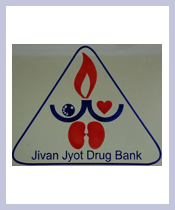 Jivan Jyot Drug Bank
G-3 Ganajwala Towers Sane Guruji Marg, Tardeo Mumbai Centeral (w), Mumbai, Maharashtra, India, 400034
Founded Year: 1986
Cause category: Health
Telephone: 022-23529047
Charity Bib Status:
15 Available
Raised by 0 contributors.

About NGO:
We are helping poor and needy patient Of kidney related disease by providing Material and medicines free or at affordable rates. Also help setting up dialysis machines at various center in Maharashtra and Gujrat , helping dialysis at FREE of cost or affordable rates. Also works with lever and cancer patients & eye hospital at Shahpur and Dharmpur area.
Fund Usage:

We have 5000 patients registered with us for Kidney and related diseases, Providing free or heavily discounted rates medicines to them. Primary fund will be used here and also we set up few dialysis center at various places making dialysis Free or cheaper. We will spent major amount on medicines and dialysis machines besides setting up EYE hospital at Shahpur and Dharmpur. We need Large amount and we can also provide 35 AC tax certificate entitling 100% tax benefit. Please visit our center at Mumbai central for more visit.
Impact:
Every day about 100 or more patients come at our premises to obtain free medicine or subsidise medicines. Also we provide free general medicine to about 800 patients every month.
We have put 2 dialysis machine at rural area of Dharmpur in Gujarat and 2 machines at Surendra nagar Gujarat.
Laxman Kamble a 20 yrs old boy have been provided free post transplant medicine worth Rs. 10000/- every month from last 15 months or more.
Providing insulin to many Diabetic patients every month.
Like wise many poor patients comes from Nair Hospital, Nana Palkar & other government hospital.