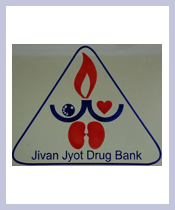 Jivan Jyot Drug Bank
G-3 Ganajwala Towers Sane Guruji Marg, Tardeo Mumbai Centeral (w), Mumbai, Maharashtra, India, 400034
Founded Year: 1986
Cause category: Arts Culture & Sports
Telephone: 022-23529047 / 23523715
Charity Bib Status:
Not Available
Raised by 0 contributors.


Donations for SCMM 2015 are closed. Thank you.
About NGO:
JJDB is Serving Ailing Patients Of Kidney Failure, Lever And Canceer Patients By Providing Medicines Free Or At Highly Disocunted Rates With Respect To M.R.P. We Have About 5000 Registered Patients With Us As Members. We Provdie Free General Medciines To About 600 Poor And Bpl Patients Every Month, Irrespective Of Cast And Creed.
Fundraisers supporting this NGO:


Fund Usage:

Putting Dialysis Machines & Buying Medciines In Bulk And Distributing Free Of Cost Or At Sunsidies Rates To Bpl And Needy Patinets. We Also Have 35 Ac Certificate To Benefit Donor 100% In Tax Rebate
Impact:
Every day about 100 or more patients come at our premises to obtain free medicine or subsidise medicines. Also we provide free general medicine to about 800 patients every month.
We have put 2 dialysis machine at rural area of Dharmpur in Gujarat and 2 machines at Surendra nagar Gujarat.
Laxman Kamble a 20 yrs old boy have been provided free post transplant medicine worth Rs. 10000/- every month from last 15 months or more.
Providing insulin to many Diabetic patients every month.
Like wise many poor patients comes from Nair Hospital, Nana Palkar & other government hospital.