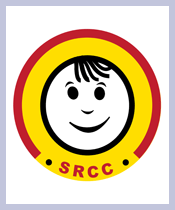 The Society For Rehabilatation of Crippled Children
1-a, Haji Ali K.khadye Marg, Mumbai, Maharashtra, India, 400034
Founded Year: 1948
Cause category: Health
Charity Bib Status:
Not Available
Raised by 0 contributors.


Donations for SCMM 2015 are closed. Thank you.
About NGO:
Society established in 1948 to assist children afflicted by poliomyletis.
Granted land at the premier site in the city, at Haji Ali.
Established the 'CHILDREN'S ORHTOPEDIC HOSPITAL' as its first effort
Offered comprehensive services of medical, surgical and rehabilitation.
Recognised nationally and internationally for the work done.
Served as a referral centre for India, neighbouring countries like Nepal and Sri Lanka, Middle East and countries of the South East.
World Health Organisaton and other international bodies recognized the pioneering effort made by the Society.
As incidence of poliomyletis decreased, SRCC started offering all services to children afflicted by other conditions like Cerebral Palsy. The rehabilitation facilities then became important, and the Department established care with physiotherapy, occupational therapy speech therapy and education therapy.
The education therapy was further extended to children with learning problems. Children who had an high IQ, but were unable to take the stresses of formal education because of dyslexia, epilepsy, attention deficiency syndrome, and other disabilities were guided to take the Xth and XIIth standard board examinations of the National Institute of Open Schooling, New Delhi. Children are also given the opportunity to acquire new vocational skills.
Fund Usage:

Aims & objects of the Society as noted in its Memorandum of Association-
To organize hospital and clinics for diagnosis, care and treatment of disabled children, and children in need of any medical treatment.
To create and educate public on the problems of such afflicted children.
To equip and maintain one or more out-patient Physiotherapy and Rehabilitation Centre for the treatment of children.
Encourage and stimulated other organizations in Bombay and elsewhere in India to organize similar centres.
Collect funds for establishing a Multi Facility Children's Hospital in Bombay
Total Budget of Project - Estimated Rs 200 Crores