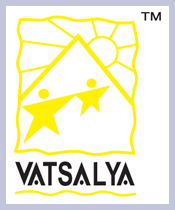 The Vatsalya Foundation
The Vatsalya Foundation, Anand Niketan, King George V Memorial, Dr. E. Moses Road, Mahalaxmi (w), Mumbai, Maharashtra, India, 400011
Founded Year: 1982
Cause category: Education
Telephone: 022-24962115
Charity Bib Status:
50 Available
Raised by 1 contributors.

About NGO:
The Vatsalya Foundation is a pioneer organization working or the marginalized and the vulnerable children. The organisation caters to the needs of s street children in the city of Mumbai at various day care centres, shelter home and a group home. The organization conducts outreach at various places to identify the needs and issued faced by street children and rehabilitation them to the shelter home and girl's shelter home if needed. The organization provides formal and non-formal education to children and youth , along with providing an opportunity to reveal their creativity through various creative activity as well as recreational activity. The organisation aims to meet the emotional needs of street children by being child friendly, non-judgmental and non-threatening , with love and full acceptance of their life situations and experiences. The policy to accept children as partners and not mere beneficiaries is a unique characteristic of Vatsalya and a good example of its faith in them. The Vatsalya Foundation works with ' Children without Home, but Not without Hope"
Fundraisers supporting this NGO:


Fund Usage:

Educational Expenses - 30%
Nutrition - 25%
Human Resources - 20%
Developmental Projects - 15%
Center Rents - 10%
Impact:
Name: - Pradnya Subhash Sawant Age: - 15 Yrs Birth Date: - 27th June 1997
Place: - Rahul Nagar Native Place: - Nizampur , Dist- Raigad
Pradnya came in contact with The Vatsalya Foundation in the year 2008 at Bandra Centre. Pradnya has father who has left them. Her mother is a domestic worker. Pradnya has 3 sisters. The eldest has married. The second sister dropout and helping her mother in work. The third number among sister is Pradnya. And the forth sister's name is pratiksha is studying in 7th std. And last number youngest sister is Pallavi. She is in 5th std. Till 7th Std;. Pradnya studied in Bazar Road Municipal School. Then from 8th std she new admission in B.P.E. Society High School. Pradnya is very clever in studies and she is a active girl. She herself takes participation in all the activities. Pradnya takes the responsibility of teaching dance and she is a good dancer. She has interest in study and in 10th std she got 62%. Now she wants to take commerce field and educate herself further. After education she wants to complete her sister's education and wants to take care of her family especially her mother. Pradnya likes to sing.