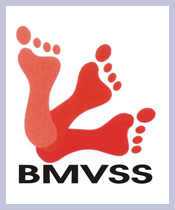 Bhagwan Mahaveer Viklang Sahayata Samiti
K.e.m. Hospital, Orthopedic Wing, Dr. Borgis Road, Opp. Tata Cancer Hospital, Parel, Mumbai, Maharashtra, India, 400012
Founded Year: 1975
Cause category: Disability
Telephone: 022-24140143
Email: Bmvss.mumbai@gmail.com

Website: www.jaipurfoot.org


Charity Bib Status: Available

About NGO:
BMVSS is a non-religious, non-sectarian, non-political, non-governmental voluntary organisation for helping the handicapped. It is a registered society set up in 1975 which provides artificial limbs, calipers, crutches, walkers, wheel chairs, tricycles, hearing aid etc. totally free of cost. BMVSS is the world's largest organization for the handicapped.
2 % of India's one billion population suffer from disability, with .8 % suffering from 'locomotive disability' that is, the loss of a limb through polio, leprosy, train accidents, diabetes etc. There are 25,000 new amputees each year. People suffering from disability are usually illiterate and living below the poverty line.
Our technology of Jaipur artificial limbs and calipers is known all over the world. However, we are further improving it with the support of Stanford University, MIT (USA), and Indian Space Research Organisation ISRO etc.
The Mumbai Center with its head office in Jaipur has started in 1993 with the primary objective of physical, economic, and social rehabilitation of people with disabilities, enabling them to regain their self-respect, mobility and human dignity so that they join the main stream of society as its useful members.
Fund Usage:

he amount will be spend to reaching out to more interior parts of Maharashtra, Karnataka, Goa and Gujarat and helping the handicapped.
In Maharashtra we need to cover the remotest parts of Chandrapur and Gadchiroli which are the Naxal infested areas, Melghat in Amaravati district , Akola, Beed, Parbhani and most of the Konkan region of the state.
The local center which is in K.E.M. hospital does almost 3000 limbs & calipers every year as the railway and road accidents have increased in number. Also the diabetes amputees are growing as there is very less awareness about this disease among the classes & masses too.
BMVSS needs funds for the ever increasing number of amputees and to look after their welfare by providing means & methods for their living. All the government hospitals are provided with the wheelchairs for their patients with spinal injuries. With the help of Rs.2000/- we can make a person walk on his feet and live independently. It is rightly said, with your grace, "Pangum Langhayate Girim."- a lame can cross the mountain.

Impact:
We take care of our beneficiaries apart from just giving them a Jaipur Foot. We try to make them independent and self sufficient to stand on their own feet.
One such case is of Mrs. Bharati Sawant of Vakola, Mumbai. She is a bilateral amputee below knee. We fitted both her limbs, supported her by giving her a hand sewing machine to earn her living.
She had a son who was not doing well in his studies. We took the responsibility and put him in a school and took care of all his daily needs, fees etc. He passed his SSC this year and we will look into his further education also.
We look after many such amputees like Ms. Roshani Gupta who is 12 years old and a both leg amputee. Right from her age of 4 we look after all her needs as her parents have deserted her and she is looked after her aunt and grandmother. Her schooling, fees , uniform and all other needs are taken care by our BMVSS.



Page Url : http://www.unitedwaymumbai.org/ngo105_bmvss.htm