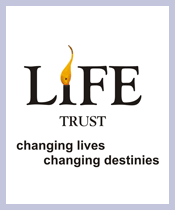 Life Trust
Bb1/ Neelam Centre, Sk Ahire Marg, Worli, Mumbai, Maharashtra, India, 400025
Email: empower@lifetrustindia.org, marketing@lifetrustindia.org
Website: www.lifetrustindia.org

Charity Bib Status: Not available

About NGO:
LIFE Trust is a public Charitable Trust established in the year 2000. LIFE Trust works to improve the quality and accountability of the education system for lesser privileged children through the introduction of creative teaching techniques. Various enrichment programmes are conducted at the school and preschool level to supplement the existing curriculum. At the preschool level, LIFE Trust works in partnership with the Integrated Child Development Scheme and focuses on capacity building of anganwadi teachers. LIFE Trust also works in the area of women empowerment and conducts vocational training and other enrichment programmes for the women of the community.
Fund Usage:

Appeal- "We appeal to you to come forward and pledge your support for us this year. By doing so, you will help change the lives of so many disadvantaged children by giving them an education. Your participation means a lot for us. So please come forward and help us in our endeavour of changing lives, changing destinies."
We intend to use the money for our partnership with the Women and Child Department in service delivery of academic, life skills, extracurricular activities and other enhancement programmes. For example, children in government orphanages and institutions example, 7 institutions of the Children's Aid Society covering approximately 2000 children.
Impact:
We are the only NGO in Maharashtra to present an award to the best anganwadi sevika. At the Women's Day function 2012, the honorable Minister deeply appreciated our initiative and commended the spirit of empowering anganwadi sevikas. Through this award, she in turn honored the same anganwadi sevika on behalf of Maharashtra government. This is a true example of empowering the government to act.
Ramesh, a boy of standard VI, at one of the municipal schools was a problem child. It seemed that Ramesh was facing a communication problem and could not write correctly. His teachers complained that his homework was never complete and he was a naughty child. Once the child was referred to the LIFE Trust counselor addressed the problem and devised a remediation strategy for him. As part of this plan, 23 sessions were conducted where the child was counseled and taught with the help of a play-way method. She also counseled his teachers to positively reinforce desired behavior. After a completion of all the remediation sessions, a post test was taken that revealed that Ramesh had improved in Maths and English and he was able to complete his homework on time. Ramesh was now an improved child who had found the motivation to learn. This is an example of how LIFE Trust used a remediation strategy to bring about reform.
Page Url :
http://www.unitedwaymumbai.org/ngo104_life.htm
Online donations are now closed for SCMM'13'
Founded Year:
2000
Cause category: Education
Our Supporters
You can raise funds by placing this donation widget on your web page or blog. Please click on the image.