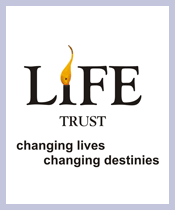 Life Trust
Bb1/ Neelam Centre, Sk Ahire Marg, Worli, Mumbai, Maharashtra, India, 400025
Founded Year: 2000
Cause category: Education
Telephone: 022-24910288
Charity Bib Status:
30 Available
Raised by 0 contributors.

About NGO:
Life Trust's "Our Home", at Chennai has been a haven of refuge for orphan boys and girls since then. Working in tandem with government schemes and within the public service framework, it has been supporting and complementing many ongoing welfare schemes and policies. Our two signature projects are School Development Programme (SDP) and Child Care Centre Programme (CCC) under which we work with Municipal Corporation of Greater Mumbai schools and with Government's Integrated Child Development Scheme (ICDS) respectively. At Bangalore, Life Trust Patshalas Tent Schools have been instrumental in spreading education among children of construction workers and other underprivileged children.
Fund Usage:

Fourteen years ago, we started LIFE Trust with the vision "School Chalo" that focused on getting children back to school. Today, we have not only exceeded our vision but also scaled our activities to include a host of initiatives in the area of Early Childhood Care, Women Empowerment, Vocational Training, introducing technology into the municipal classroom and partnerships with Orphanages and Observation Homes in Mumbai. Come join us in our efforts...
Impact a child's life...
Donate for LIFE Trust.
Impact:
Students of our Municipal schools have come out with flying colours in their SSC Board examinations in 2012-13. LIFE Trust felicitated 20 toppers from these schools, most scoring over 85%. We would like to share with you the case study of one of these students, Shubham Chaudhari.
Shubham was a bright boy who was coached by our LIFE Coach Dattatray, who helped him improve his scores in Maths through regular sessions. Dattatray also motivated the young boy and shared with him tips on effective study habits to score good marks. Apart from this, he was also made to realize the importance of Time Management by our Outreach Team.