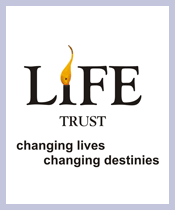 About NGO:
LIFE Trust works in partnership with the government to improve the quality of education for lesser privileged children at the school and pre-school level across Mumbai, Bangalore and Chennai.
SCHOOL DEVELOPMENT PROJECT(Mumbai) - LIFE Trust has introduced digital classrooms and implemented a range of programmes across 145 municipal schools in Mumbai.
CHILD CARE CENTRE (Mumbai)- LIFE Trust monitors and supports 894 anganwadis under the ICDS scheme and conducts capacity building of anganwadi teachers. LIFE Trust also facilitates vocational training of adolescent girl groups.
ROSHNI (Mumbai) - Following a partnership with the "Children's Aid Society", LIFE Trust now conducts a range of programmes for the children of orphanages and observation homes in Mumbai.
BANGALORE - In partnership with the Sarva Shiksha Abhyan, LIFE Trust provides non-formal education to children of construction workers and children in slum areas through LIFE Pathshalas.
CHENNAI - LIFE Trust has provided a loving refuge for 24 destitute children, who are now pursuing their graduation.
MOVING FORWARD - LIFE Trust is gradually making a foray into generating healthcare awareness among the women of the community. A number of cancer awareness camps have been conducted for anganwadi teachers in Mumbai. In Bangalore, healthcare services are provided to children in LIFE Pathshalas, through health camps and immunization drives.
Fund Usage:

"Each day, every year, we at LIFE Trust run a race to help children to enjoy going to school. We set out at a whirlwind pace, never losing our drive to make 'School Chalo' the mantra of every child. This year we invite you to join our team and help us reach the finish line to a brighter future for every child in India by participating in the Standard Chartered Mumbai Marathon 2014.
As you know, LIFE Trust works to strengthen the existing public school system and currently reaches out to 1.5 lakh beneficiaries annually. We try to give underprivileged children access to education and health care so as to enable them to grow up to become independent empowered individuals.
Help us do more, with your support. Please come forward and join hands in "Changing lives, Changing destinies."
All funds will be used to support our projects in Mumbai and Bangalore.
Impact:
Students of our Municipal schools have come out with flying colours in their SSC Board examinations in 2012-13. LIFE Trust felicitated 20 toppers from these schools, most scoring over 85%. We would like to share with you the case study of one of these students, Shubham Chaudhari.
Shubham was a bright boy who was coached by our LIFE Coach Dattatray, who helped him improve his scores in Maths through regular sessions. Dattatray also motivated the young boy and shared with him tips on effective study habits to score good marks. Apart from this, he was also made to realize the importance of Time Management by our Outreach Team.
Page Url :
http://www.unitedwaymumbai.org/ngo104_life.htm
Founded Year:
2000
Cause category: Education
Our Supporters