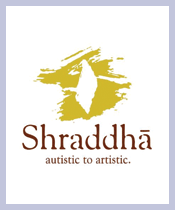 Shraddha Charitable Trust
14-19 Mahalaxmi Municipal School Building , 3rd Floor, Bhulahai Desai Road, Opp. Tirupati Apts., Next To Shobha Resturant, , Mumbai, Maharashtra, India, 400026
Founded Year: 1999
Cause category: Disability
Telephone: 91-22-23513735 / 91-22-23524463
Charity Bib Status:
Not Available
Raised by 0 contributors.


Donations for SCMM 2015 are closed. Thank you.
About NGO:
"Shraddha Charitable Trust" is a workshop devoted to helping the autistic and mentally challenged young adults. Autism is a disorder of the brain that causes lifelong development disability affecting their communication & social abilities thus these challenged people lead their whole life dependant on others.
At "Shraddha", our focus is on rehabilitation and training programmes dedicated to empower these adults with special skills to create various artistic and utility articles, which can be sold. Our products include gift bags in canvas/jute, paper, gajra bags, silk bangle bags, mobile covers, envelopes, greeting cards, agarbatti stand, rangolis in various sizes and shapes, floating lotus, eco friendly, microwaveable patravali plates/bowls in six sizes etc. Our aim is to inspire these adults inspite of their handicap make them feel useful and confident as regular earning members of society.
Fund Usage:

The funds received during SCMM 2014 were used for training & rehabilitation of our special adults. As we are in the process of building our Corpus Funds, donation received for the Corpus will help us to build a health Corpus fund which will help us to meet the day to day expenses of our organization and also help us to meet any eventualities in future.
Impact:
Mohammed Saif is 25 years old and severely autistic. When Mohammed joined Shraddha three years ago he was a very aggressive boy and prone to bouts of violent behaviour. With lots of coaxing by the staff at Shraddha he was made to work on the leaf plate presses which helped to channelize his excessive energies on the machines as they require some physical exertion. Today he proudly displays a stack of 300 plates as his personal achievement with a promise to better his record as time goes by. Mohammed's demeanour has improved greatly and the frequency of his temper tantrums have also reduced quite a lot. The smile on his face the day he takes home his stipend cheque is priceless.