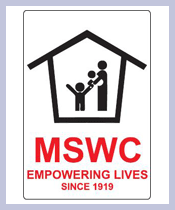 About NGO:
Maharashtra State Women's Council (MSWC) established in 1919 continues to benefit the underprivileged women and vulnerable children in myriad ways by initiating new programs aimed at giving a voice and new opportunities to a vast, unrepresented cross section of society.
We have 10 different projects that carry on this good work;
Asha Sadan
Adoption Group
Foster Care
Bapnu Ghar
Lotus Home
Savera Day Care Centre
Matunga Labour Camp
Library
Project Street Children
Health.
Fund Usage:

For running all our ten Projects mentioned above – approximately Rs.17,40,000/- (rupees seventeen lakhs) per month.
Impact:
Prachi a 57 year old married woman approached Bapnu Ghar for solving her marital discord. Prachi was married for 23 yrs with no children. This was her husband's 2nd marriage with two daughters. Prachi took early retirement as a clerk in Mantralaya. She invested her retirement benefits in a flat at Nalasopara. Initially all was well but later on he started harassing her physically, mentally and sexually. He pressurized her to put the flat on his daughters name. She complained to the police and left him and came to stay in Bapnu Ghar. Her husband was called several times. He got violent during such meetings. He was counseled by the committee and advised to meet the psychiatrist as well as Alcoholic Anonymous Group. He complied and then agreed to behave well and took her. On a follow up Prachi informed us that her like is okay now and thanked the Bapnu Ghar Committee.
Page Url :
http://www.unitedwaymumbai.org/ngo102_mswc.htm
Founded Year:
1919
Cause category: Women, Children & Aged