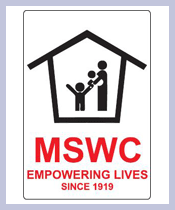 Maharashtra State Women's Council
Town Hall (central Library), S Bhagat Singh Marg,, Mumbai, Maharashtra, India, 400001
Founded Year: 1919
Cause category: Children
Telephone: 22662013
Charity Bib Status:
Not Available
About NGO:
Maharashtra State Women's Council (MSWC) was established in 1919. Over the past 95 years, the NGO has a distinguished record of service to under-privileged women and children. MSWC operates several institutions in Mumbai including the following :
Asha Sadan – home for children and young women in distress
Street Children Project – a day care centre and education for street children and a night shelter for girl street children
Dharavi Balwadi and Community Center
Bapnu Ghar – a home for distressed women
Savera School - a centre for children with special needs.
We also run a Foster Care project and other initiatives in the areas of health and education of women and children.
MSWC is run entirely by a small group of volunteers and a dedicated team of employees and staff members. The volunteers and staff provide the time and effort, but the funds required for all MSWC initiatives come almost entirely from the generosity of its donors, both individuals and companies
Fundraisers supporting this NGO:


Fund Usage:

Funds are required by us for operation of the above institutions and projects. Our major expenditures are in the areas of nutrition, health, education and training of children and women in our institutions. We also require funds every year for upkeep of the premises and upgradation from time to time to maintain our high standards of safety, hygiene and health
Impact:
Each of our institutions and projects has a direct beneficial impact on the lives of several children and women. Every year, we are instrumental in being of assistance to approximately 1500 children and women across our various centres and projects. Several hundreds of children have been rehabilitated over the years. Similarly a large number of young women have regained the confidence and ability to move forward through education, training and jobs.