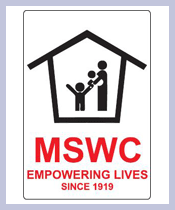 Maharashtra State Women's Council
Town Hall (central Library), S Bhagat Singh Marg,, Mumbai, Maharashtra, India, 400001
Founded Year: 1919
Cause category: Children
Telephone: 022-22662013 / 022-22664834
Charity Bib Status:
Not Available
Raised by 19 contributors.

About NGO:
Maharashtra State Women's Council (MSWC) established in 1919 continues to benefit the underprivileged women and vulnerable children in myriad ways by initiating new programmes aimed at giving a voice and new opportunities to a vast unrepresented cross section of society. We have 10 different projects that carry on this good work.
Asha Sadan, Bapnu Ghar, Lotus Home, Child Welfare, Foster Care, Health Committee, Matunga Labour Camp, Street Children Project, Adoption Group.
Fundraisers supporting this NGO:


Fund Usage:
For running of all the 10 projects mentioned above approximately Rs. 2,78,04,271/- ( as per report of 2013 -2014)
Impact:
Each of our institutions and projects has a direct beneficial impact on the lives of several children and women. Every year, we are instrumental in being of assistance to approximately 1500 children and women across our various centres and projects. Several hundreds of children have been rehabilitated over the years. Similarly a large number of young women have regained the confidence and ability to move forward through education, training and jobs.