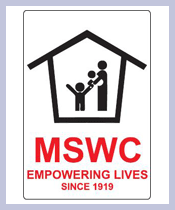 Maharashtra State Women's Council
Town Hall (central Library), S Bhagat Singh Marg, Mumbai, Maharashtra, India, 400001
Email: mswcouncil@gmail.com; mswcouncil@mtnl.net.in
Website: www.mswcindia.org

Charity Bib Status: Not available

About NGO:
Maharashtra State Women's Council (MSWC) established in 1919 continues to benefit the underprivileged women and vulnerable children in myriad ways by initiating new programs aimed at giving a voice and new opportunities to a vast, unrepresented cross section of society. We have 10 different projects that carry on this good work; (1) Asha Sadan, (2) Adoption Group, (3) Foster Care, (4) Bapnu Ghar, (5) Lotus Home, (6) Savera Day Care Centre, (7) Matunga Labour Camp, (8) Library, (9) Project Street Children, (10) Health.
Fund Usage:

For running all our ten Projects mentioned above - approximately Rs.15,00,000/- (rupees fifteen lakhs) per month.
Impact:
Pooja Kishore Bhagwan
Pooja had been admitted at M.S.W.C. Asha Sadan on 24.01.2005 vide order of Child
Welfare Committee, Mumbai. Pooja is originally from Goa and she is an orphan child.
She studied upto std Xth through National Institute of Open Schooling and has presently
appeared for the University Entrance test of SNDT University. After her Xth std. Pooja
started to work as a Trainee Chef with Indigo (Chain of Restaurants & Hotels) and after
one year training she has been absorbed as their regular employee at Indigo.
Jyoti Narasappa Kamble
Jyoti has been admitted at M.S.W.C. Asha Sadan on 14.12.2007 vide safe custody
order of Child Welfare Committee, Mumbai. Jyoti's mother kept Jyoti with a family
when she was 9-10 years old and Jyoti was helping them in domestic chores. In other
words she was a victim of child labour.Neither her mother, nor the said family, gave
her any opportunity to study. At M.S.W.C. Asha Sadan she started her education and
presently doing her Second part of VIII std through National Institute of Open Schooling.
Last year Jyoti also joined Indigo, as a trainee and after one year of training they have
absorbed her as their regular employee.
Page Url :
http://www.unitedwaymumbai.org/ngo102_mswc.htm
Online donations are now closed for SCMM'13'
Founded Year:
1919
Cause category: Women, Children & Aged
You can raise funds by placing this donation widget on your web page or blog. Please click on the image.