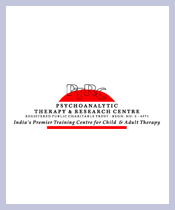 Psychoanalytic therapy and Research Centre
4, Veetrag Chambers,46, Cawasji Patel Marg, Fort, Mumbai, Maharashtra, India, 400001
Founded Year: 1998
Cause category: Education
Telephone: 022 22813735
Charity Bib Status:
Not Available
Raised by 69 contributors.


Donations for SCMM 2015 are closed. Thank you.
About NGO:
In India 10-20 people out of every 1000 suffering from severe mental illness, and 3-5 times more have emotional disorder. Lack of awareness, refusal to accept this reality and social stigma attached to mental illness stops people from leading productive lives and those needing help often end up without access to appropriate treatment. In Mumbai PTRC is striving to create awareness about mental health and to provide the necessary treatment to emotionally deprived and disturbed children, adults and their family.
Our work here also includes work with bereavement, child abuse, communication and autistic disorders, learning disabilities, conduct disorders, eating disorders, self harm and sustain abuse in children and adults.
The centre was started with the aim of making this help accessible to families of all incomes. With this we can provide help to larger number of people looking for assistance.
Fundraisers supporting this NGO:


Fund Usage:

Awareness programs for public
To provide Psychotherapy and psychoanalysis for children, young people, adults and family at affordable prices
Consultation for schools, collages, NGO's (Naad, Aseema)
Mental Health Awareness Public talks
Training programs for students, we also give scholarships for deserving students.,/li>
Impact:
DUE TO REASONS OF CONFIDENTIALITY WE CANNOT REVEAL CASE STUDIES