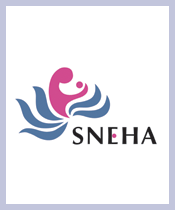 SNEHA (Society for Nutrition, Education and Health Action)
310, 3rd Floor, Urban Health Centre, 60 Feet Road, Dharavi, Mumbai, Maharashtra, India, 400017
Email: manuela@snehamumbai.org
Website: www.snehamumbai.org

Charity Bib Status: Not available

About NGO:
A secular, Mumbai-based non-profit organisation, SNEHA (Society for Nutrition, Education and Health Action) believes that investing in women''s health is essential to building viable urban communities. SNEHA targets four large public health areas - Maternal and Newborn Health, Child Health and Nutrition, Sexual and Reproductive Health and Prevention of Violence against Women and Children.
Its approach is two pronged: it recognises that in order to improve urban health standards, its initiatives must target both care seekers and care providers. It works at the community level to empower women and slum communities to be catalysts of change in their own right and collaborate with existing public health systems and health care providers to create sustainable improvements in urban health.
Fund Usage:

1 out of 4 women have experienced spousal violence in the slums of Mumbai. (NFHS3)
Our program on Prevention of Violence against Women and Children addresses this very cause. In keeping with its vision of eliminating violence against women and children, the Program offers help in crisis situations, in the form of counselling, legal aid, referrals to shelter homes, access to medical care and empowerment through livelihood choices at our skills training centres.
The Program works not only with survivors and perpetrators of violence, and their families, but also with the community at large to change mindsets and encourage a change in behaviour. At SNEHA we believe that apart from adults, the new audience that needs to be harnessed are the youth.
Funds raised will be used for core interventions as well as to sensitize, empower, counsel and train the youth using various creative art and drama forms, to deal with issues of violence in their immediate surroundings and in their communities.
Your support will help SNEHA to create a violence-free and promote a gender-just society.
Impact:
Anamika came to the SNEHA crisis centre in April '2011 brutally beaten up seeking redress and medical help for the domestic violence being inflicted upon her and her 3 school going daughters by her alcoholic husband. We got her treated her at Sion hospital.
Her husband Raja wouldn't cooperate with any kind of counseling intervention. Anamika and her children had found recourse at her father's home but it was difficult him to support them indefinitely since he was a daily wage labourer.
The situation called for legal intervention, so SNEHA (a recognized service provider) filed a case under the PWDV Act in Thane court with some difficulty since the case was the first of its kind to be filed by a service provider.
After the first date of hearing Raja approached us asking to reconcile. Knowing his attitude we agreed on the consent terms but insisted that the same be decreed by the court for legal sanction. Raja agreed and signed the consent terms. On SNEHA's persuasion both the parties met at court on a given date date and a court settlement was obtained via mediation in August 2011.
Anamika says "I was hesitant to approach SNEHA but I think I took the right decision. Today I am having a rightful existence in my house. I don't get humiliated."
Page Url :
http://www.unitedwaymumbai.org/ngo100_sneha.htm
Founded Year:
Cause category: Health
Telephone: 022-26614476
Our Supporters