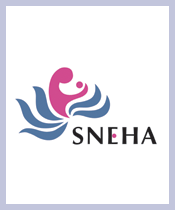 SNEHA (Society for Nutrition, Education and Health Action)
Sneha, Shastrinagar, Bmc Colony, Behind Bldg.no.11, Santacruz West,, Mumbai, Maharashtra, India, 400017
Founded Year:
Cause category: Health
Telephone: 022-26614488 / 26606295
Charity Bib Status:
Not Available
Raised by 27 contributors.


Donations for SCMM 2015 are closed. Thank you.
About NGO:
A secular, Mumbai-based non-profit organization, SNEHA believes that investing in women's health is essential to building viable urban communities. SNEHA targets four large public health areas - Maternal and Newborn Health, Child Health and Nutrition, Sexual and Reproductive Health and Prevention of Violence against Women and Children. We work in Mumbaiís most vulnerable slums including Dharavi, Ghatkopar, Kurla, Mankhurd, Govandi and Kandivali. We have recently extended our work in Maternal and Newborn health to Thane, Mira-Bhayander and Kalyan-Dombivali municipal corporations.
Our approach is two pronged: We work at the community level to empower women and slum communities to be catalysts of change in their own right and also collaborate with existing public health systems and health care providers to create sustainable improvements in urban health.
Fundraisers supporting this NGO:


Fund Usage:

Ragini (name changed), a young newlywed, was burnt alive by some local goons. They did it to "teach her a lesson" for not reciprocating and responding to their advances. Many people from the community witnessed the horrific incident, but not a single person dared help her against the goons, as the community was afraid of the consequences.
Ragini didn't live to tell her tale. The traumatised family did not know where to go for help. It was at this time of crisis that someone from the community directed them to SNEHA's centre. A case was filed against the thugs on behalf of the girl and her family. After three years of struggle and a tough court battle, the culprits were sent to jail for 14 years. Ragini found justice albeit after her death.
At SNEHA we are raising funds to fight all those who are suffering from various forms of abuse esp. in the urban slums.
The money raised will enable us to follow through and support cases of violence, until the victim is counseled and re-settled into a safe environment. The TIME IS NOW. Too many women have suffered in silence. You CAN BREAK THE SILENCE ON VIOLENCE
Impact:
Anamika came to the SNEHA crisis centre in April '2011 brutally beaten up seeking redress and medical help for the domestic violence being inflicted upon her and her 3 school going daughters by her alcoholic husband. We got her treated her at Sion hospital.
Her husband Raja wouldn't cooperate with any kind of counseling intervention. Anamika and her children had found recourse at her father's home but it was difficult him to support them indefinitely since he was a daily wage labourer.
The situation called for legal intervention, so SNEHA (a recognized service provider) filed a case under the PWDV Act in Thane court with some difficulty since the case was the first of its kind to be filed by a service provider.
After the first date of hearing Raja approached us asking to reconcile. Knowing his attitude we agreed on the consent terms but insisted that the same be decreed by the court for legal sanction. Raja agreed and signed the consent terms. On SNEHA's persuasion both the parties met at court on a given date date and a court settlement was obtained via mediation in August 2011.
Anamika says "I was hesitant to approach SNEHA but I think I took the right decision. Today I am having a rightful existence in my house. I don't get humiliated."
More Related
About SCMM 2015
Participating Charities
Corporate Teams
Individual Fundraisers
Student Challenge
Fundraiser Levels & Privileges
How It Works
Fundraising Kits
Charity Bibs
Frequently Asked Questions
Downloads
The Superhero Rises!
Click to watch the video.