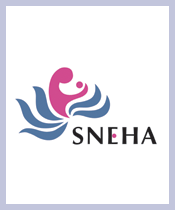 SNEHA (Society for Nutrition, Education and Health Action)
Sneha, Shastrinagar, Bmc Colony, Behind Bldg.no.11, Santacruz West,, Mumbai, Maharashtra, India, 400017
Founded Year:
Cause category: Health
Telephone: 022-26614488
Charity Bib Status:
20 Available
Raised by 0 contributors.

About NGO:
SNEHA is a secular, Mumbai-based non-profit organization addressing four major areas of public health - Maternal and Newborn Health, Child Health and Nutrition, Sexual and Reproductive Health, and Prevention of Violence against Women and Children .. SNEHA works towards the vision of realizing healthy and safe urban communities in the informal settlements of Mumbai and beyond. – Our work currently covers the most deprived informal settlements in Mumbai and three adjoining regions: Thane, Kalyan Dombivali and Mira Bhayander.
Our approach is two pronged:We work at the community level to empower women and slum communities to be catalysts of change in their own right and also collaborate with existing public health systems and health care providers to create sustainable improvements in urban health.
Fundraisers supporting this NGO:


Fund Usage:

SNEHA considers youth to be an important constituency to work with. Health, nutrition and right perspective towards gender equality developed during adolescence is extremely important as it is a crucial determinant of the health of future adult citizens. 'EHSAS' stands for Empowerment, Health, and Sexuality for Adolescents.
Currently runs in four areas of Mumbai: Ghatkopar, Dharavi, Kandivali & Kanjurmarg.

Our intervention seeks to create a solution driven environment for the problems faced by adolescents.

We impart knowledge to enable subsequent attitude and behaviour change to create a pool of change-agents and peer-educators within the community via 6 monthly modules that look at health, life skills and gender perspectives.
Vocational skills and employability are delivered through partnerships.
Achievements:
Reached out to over 10,000 adolescents and youth through health and life skills education
Provided vocational training to over 5,000 youth
In one of our intervention site, percentage of adolescents who scored high, in Gender Equitable Men (GEM) scale increased by 40% after going through our module on gender, sex and sexuality.
Formation of 10 volunteer youth groups, involving about 120 children for reportage on prevention on violence and community advocacy , related to health, hygiene & action against gender based violence.
Impact:
Anamika came to the SNEHA crisis centre in April '2011 brutally beaten up seeking redress and medical help for the domestic violence being inflicted upon her and her 3 school going daughters by her alcoholic husband. We got her treated her at Sion hospital.
Her husband Raja wouldn't cooperate with any kind of counseling intervention. Anamika and her children had found recourse at her father's home but it was difficult him to support them indefinitely since he was a daily wage labourer.
The situation called for legal intervention, so SNEHA (a recognized service provider) filed a case under the PWDV Act in Thane court with some difficulty since the case was the first of its kind to be filed by a service provider.
After the first date of hearing Raja approached us asking to reconcile. Knowing his attitude we agreed on the consent terms but insisted that the same be decreed by the court for legal sanction. Raja agreed and signed the consent terms. On SNEHA's persuasion both the parties met at court on a given date date and a court settlement was obtained via mediation in August 2011.
Anamika says "I was hesitant to approach SNEHA but I think I took the right decision. Today I am having a rightful existence in my house. I don't get humiliated."